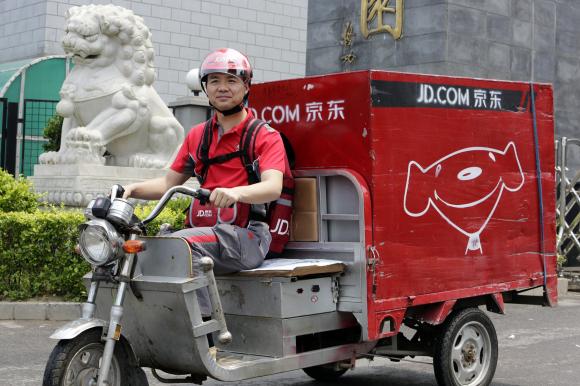 Richard Liu, CEO and founder of China's e-commerce company JD.com, rides an electric tricycle as he leaves a delivery station to deliver goods for customers to celebrate the anniversary of the founding of the company, in Beijing, June 16, 2014.[Photo/Agencies]

GUANGZHOU -- China's leading e-commerce giants have stepped up expansion of online retail business in rural areas in hopes of tapping the new territory to offset a saturated urban market.
JD.com Inc, a Nasdaq-listed firm, announced this week they would set up a county-level operating center in South China's Guangdong province.
The move followed the e-commerce decision to open a physical shop in a small northern county in Hebei in November to help farmers purchase home appliances via its online shopping store.
Plagued by poor transport and less purchasing power, rural buyers remained mostly untouched by the wave of online shopping that swept across China in recent years.
However, the situation is changing as the burgeoning market in villages has shown great potential and intrigued the country's major e-commerce businesses.
A report published by a research center under Alibaba Group, China's largest commerce company, forecast the value of the rural online sales market will grow to 180 billion yuan ($29.4 billion) this year and 460 billion yuan in 2016.
Rural buyers on Taobao.com, Alibaba's online sales website, made up nearly 10 percent of total sales of the site in the first quarter of this year, up from a proportion slightly higher than 7 percent two years ago.
Other e-commerce giants Alibaba and Suning are also striving to grab a lion's share of the market, and the former has gained one step ahead.
Alibaba has established branches in three counties and planned to invest 10 billion yuan in 3 to 5 years to spread its rural operating centers in a third of China's total counties and a sixth of rural areas.
An anonymous executive from Alibaba said the group will work hard to develop rural e-commerce to allow farmers to buy urban merchandise easily and transport farm produce to the city faster.
Industrial insiders said rural market will become a new engine to drive e-commerce growth and the competition to dominate the new territory just made the first click of the mouse.