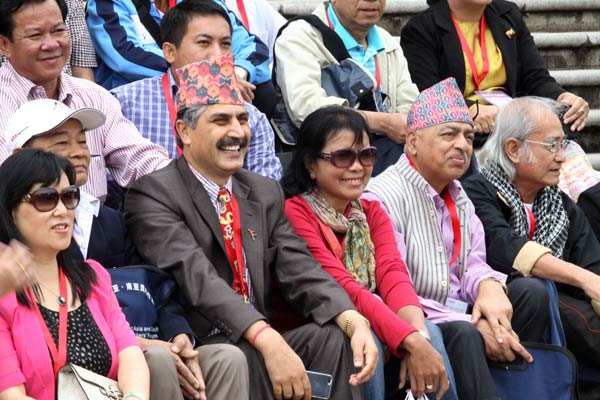 Businesspeople from Nepal enjoy a cultural show with their Chinese counterparts in Kunming, capital of Yunnan province, during a trade fair in June this year. [Provided to China Daily]
In the dusty outskirts of Kathmandu, south of the Himalayan mountain range in Nepal that holds the world's highest peaks, Chinese engineers in orange hard hats oversee construction of the country's first eight-lane highway.
The $45 million upgrade of a road circling the Nepalese capital is one of dozens of projects helping China challenge India's dominance in a country that is sandwiched between them. Until recently, the Himalayas served as a natural barrier that prompted Nepal to trade more across its flat border with India.
"China is growing in importance," Ram Sharan Mahat, Nepal's Finance Minister, said in a recent interview in Kathmandu. "Because of new trade horizons and the cheap pricing of Chinese goods, China's trade vis-a-vis Nepal is growing."
China this year overtook India as Nepal's biggest foreign investor, funding power plants, noodle factories and meat-processing units in one of the world's poorest countries. Trade is also booming: Nepal's commerce with China has outpaced that with India by 17 times since 2006, eroding the influence of New Delhi's leaders.
Signs of China's growing presence are visible throughout Kathmandu, including the flags that wave about the construction site, Mandarin announcements at the international airport and a Chinese-language book shop that popped up in the capital last month. Local markets are flooded with China-made goods such as Hindu idols once sourced from India.
"China looks to Nepal as a gateway to South Asia," Akshay Mathur, head of research at Mumbai-based Gateway House, says. "It's part of a broader strategy to extend its sphere of influence."
China is already seeking a land route through ally Pakistan to the Arabian Sea as President Xi Jinping pledges $40 billion in investments along the Silk Road trading route. China in August completed a railway link near the Nepal border, the official Xinhua News Agency reported, which could divert Chinese goods from India's Kolkata port.
"India and Indian businesses had been complacent," Mathur says, in reference to China's moves in Nepal. "They'll have to sit up and take notice."
India accounted for 53 percent of Nepal's trade last year, down from 60 percent in 2006, when a Maoist insurgency ended. China's share of Nepal's commerce has risen to 31 percent from 3 percent in that time, data compiled by Bloomberg show.
China's investment pledges worth 7.3 billion Nepali rupees ($73 million) outstripped India's 6.5 billion Nepali rupees for the first time in the year through July. They are projected to do so again this year, according to data from Nepal's Department of Industry.
China's competition with India is a boon for Nepal, whose remittances-dependent economy is smaller than all 50 US states. Its 28 million people have the lowest spending power of any Asian country apart from Afghanistan, International Monetary Fund statistics show.
"We're in between the two fastest-growing major economies in the world," Yuba Raj Khatiwada, Nepal's central bank governor, said in a Dec 3 interview at his Kathmandu office. "No other country has such an opportunity, a market of billions of middle-class populations on both borders."
Nepal is boosting yuan holdings to 15 percent of foreign-exchange reserves, equivalent to its stocks of the Indian rupee, Khatiwada says. While the Nepalese currency's peg to the rupee is working for now, it might be reevaluated if India's economy sees high volatility in the future, he says.
Even though China has made inroads, India is still poised to gain as Nepal expands. An India-Nepal power trading pact signed in August could be a "turning point" in solving South Asia's energy woes, Johannes Zutt, the World Bank's country director for Nepal, says.
Some 6,000 rivers fed by Himalayan glaciers could be harnessed for more than 80 gigawatts of capacity, according to Nepal's Investment Board, enough to power a third of India. It has tapped less than 1 percent of that potential while suffering blackouts for as many as 16 hours a day.
Exporting electricity to India rather than China is easier because its rivers flow south off the Himalayas toward India's most populous states, while China's biggest cities and industries are far to the east.