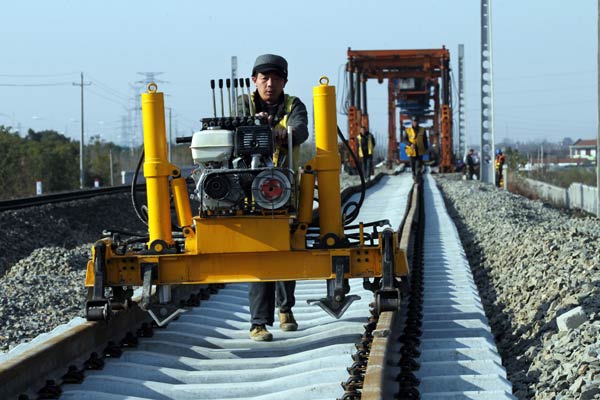 Workers test rail tracks on the Nantong section of the Nanjing-Qidong railway in Jiangsu province. The country's fixed-asset investment is expected to reach 59.4 trillion yuan ($9.6 trillion) in 2015. [Photo by XU CONGJUN/CHINA DAILY]
Weak external demand and slack domestic investment could drive China's economic growth down to 7 percent next year from about 7.3 percent this year, the country's leading think tank warned on Monday.
The Chinese Academy of Social Sciences said that 7 percent would still represent "fast and stable" growth sufficient to accelerate structural reform and maintain a healthy labor market.
Consumer inflation may drop to 1.8 percent next year from about 2 percent in 2014, exacerbating deflationary pressure, it said.
"Fixed-asset investment remains the key to stabilizing the world's second-largest economy at present, but its marginal effectiveness is weakening," said Li Xuesong, deputy director of quantitative and technical economics at the CASS.
In 2015, fixed-asset investment is expected to reach 59.4 trillion yuan ($9.6 trillion). That will be a growth of 14.7 percent, compared with a forecast of 15.8 percent for this year.
Weak external demand and sluggish commodity markets will overshadow China's trade next year, but import growth may accelerate to 4.6 percent from 2.2 percent this year, according to the CASS.
Industrial profits are likely to fall in 2015 as a capacity glut persists and labor and land costs rise.
Li said: "As market demand is likely to stabilize, the economic slowdown may bottom out next year, and a rebound will then emerge."
He advocated that the government maintain but "moderately ease" its prudent monetary policy. "Targeted easing of credit policy will continue to support the real economy," he said.
In the first three quarters of this year, GDP growth slowed to 7.4 percent year-on-year. Last year, the full-year rate was 7.7 percent.
A dramatically cooling domestic property market and rising debt remain at the top of the list of economists' concerns.
Zhu Haibin, chief economist in China at JPMorgan Chase & Co, said on Monday in Hong Kong that the property sector has become "an obvious drag" on the economy in 2014, and the phenomenon will persist in 2015. Real estate activity will further slow as inventories mount, he said.
He also said that fast-mounting corporate debts are becoming the primary source of risk in the financial sector. The debt to GDP ratio surged to 137 percent as of the third quarter, compared with 90 percent in 2007.
"We expect the government to lower its growth target to 7 percent for 2015 from 7.5 percent in 2014."
Zhu said that the bank forecasts 2015 GDP growth of 7.2 percent, with consumption, investment and net exports contributing 3.4, 3.1 and 0.7 percentage points, respectively.
The CASS report also called for tighter scrutiny of cross-border capital movements to deter large speculative money outflows.
"Reform of the current foreign exchange management system should be accelerated next year, in order to support a more flexible and market-determined monetary policy," the report said.