The Shanghai Free Trade Zone is seen as playing a crucial role in China's presence on the world economic stage.
The FTZ will serve as an important platform for China to actively participate in making international economic and trade rules, Chinese President Xi Jinping said.
The Politburo of the Communist Party of China Central Committee discussed on future development of Shanghai FTZ in its 19th collective learning session last week.
Shanghai FTZ was created one year ago to explore reform models in finance, trade and governance that can be transplanted nationwide. Xi's remarks indicated that the FTZ has new missions in the global realm apart from domestic reforms.
Li Guanghui, a researcher of international trade with the Commerce Ministry, delivered a speech on international trade and economic cooperation in the group learning. The Politburo members discussed the topic afterwards, and Xi concluded the learning session with a brief speech.
"We should not be a bystander or a follower, but active participant and a leader," Xi said. "We should be good at improving China's global competency through Shanghai FTZ. We need to let more of China's voices be heard and more Chinese elements noted in the process of making international rules, so as to maintain and expand China's interest in pursuing development."
As domestic reform entered a new phase, China's economy also faces a different international environment.
China urgently needs to change its old mindset as a follower and a bystander, and build up its FTZ according to global standards, said Zhao Jianglin, a researcher with Chinese Academy of Social Sciences.
Xi's new requirement for FTZ means that China will actively take part in bilateral and multilateral FTZ negotiation, and improve its negotiating level in the FTZ negotiations.
"Shanghai FTZ will be a key foundation in China's participation into the Trans-Pacific Strategic Economic Partnership Agreement, and the construction of new type of relations between China and the United States," Zhao said.
Some entrepreneurs in logistics and trade in FTZ said participating in the making of global economic and trade rules and creating a global environment in Shanghai FTZ are good for the development of their enterprises.
"The strategy of Shanghai FTZ is a complicated system project," Xi said. "We need to strengthen the top-level design, plan the whole situation, as well as individual actions' feasibility," Xi said.
According to the collective learning session's statement, China should actively construct a free trade zone net with relevant countries along the Silk Road Economic Belt and 21st Maritime Silk Road, two initiatives proposed by China to promote regional integration and facilitate trade and cooperation on the Eurasia continent and in the Pacific and Indian ocean regions.
Xi said that the authority in the FTZ project must pay attention to prevent and control risks, and establish an effective supervision system to ensure the safety of the reforms that the FTZ will pilot, especially in the financial sector.
The Shanghai FTZ administration commission spokesperson said that Xi's new direction for FTZ means it needs to make more breakthroughs in its administration systems.
Chen Yin, the Party chief of the commission, said that to put Xi's words into practice, Shanghai FTZ will focus on three key issues.
The FTZ will reform the former investment, trade and finance systems to improve the business environment. The FTZ will continue to transform the government's role from a dominator of the economy to a service provider for the public and the market.
"The commission will expedite the construction of its information disclosure system and improve the industrial supervisory system," Chen said.
All market rules in the FTZ will be made fair and transparent, so as to better protect the legal interests and rights of the market players, Chen added.
The Politburo of the 18th Communist Party of China Central Committee held 19 group learning sessions, which come at every 40 days on average, in the two years since it took power. Nearly 40 percent of the 19 learning sessions so far have been about the economy, finance and trade, followed by topics on government reform, rule of law, military construction, science and technology, anti-corruption and cultural studies.
Each learning session lasts about two hours. An expert in relevant fields will be invited from universities and main think-tanks to deliver a speech for about 80 minutes. Then the Politburo members will discuss the topic for about 30 minutes, followed by Xi Jinping's brief summary speech, which is invariably taken as an indication of future policies and strategies.
liyang@chinadaily.com.cn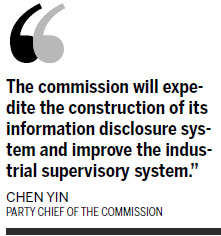 (China Daily USA 12/12/2014 page6)