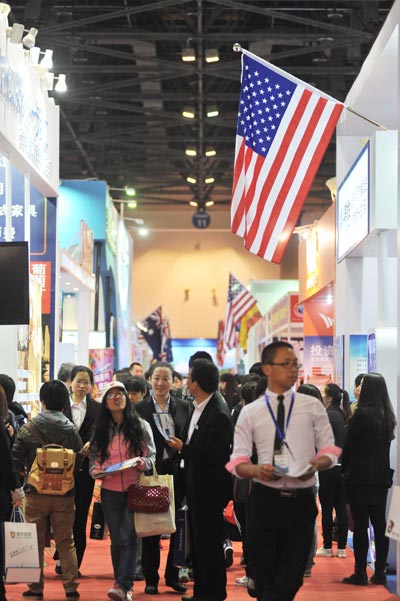 Visitors check the booths of the real estate companies from the United States at the 2014 Beijing Spring Real Estate Trade Fair, in April. [Photo/China Daily]
In Vermont, Chinese immigrants provided most of the $52 million for the Mount Snow ski resort. In California, they are providing funds for the development of the San Francisco Shipyard. And in New York City, 1,200 Chinese families paid for the $600 million foundation for the city's biggest real estate project.
In those areas and elsewhere in the country, Chinese immigrants are using the EB-5 investor program of putting up money in exchange for a United States visa.
The EB-5 program is run by the US Citizenship and Immigration Services. With a minimum of $1 million-or $500,000 in low employment or rural areas-an EB-5 investor's project must create or preserve at least 10 full-time jobs. In return, the investor is eligible for a green card for permanent US residency.
In West Dover, Vermont, the money was raised through the EB-5 program to build a water storage pond to make snow and a new lodge.
The Mount Snow offering came under the auspices of the state of Vermont EB-5 Regional Center, a designated regional center of USCIS that is part of the Vermont Agency of Commerce and Development. The project, approved earlier this year and scheduled to begin in 2015, will create 1,267 jobs.
According to Brent Raymond, executive director of Vermont's EB-5 Regional Center, the Chinese made up about 90 percent of the EB-5 investors for the project. Raymond said the Vermont EB-5 center came into existence in 1997 and had its first project approved in 2006 for another ski resort.
Businesses present a detailed expansion or development plan to the Vermont center. Raymond is quick to point out that his agency does not recruit investors for projects submitted to them. "We will travel for project road shows. Even though we approve a project (to submit for EB-5 funding) we don't say you should invest in that project," he said.
The Wall Street Journal reported on Wednesday that nearly 11,000 investors applied to invest via the EB-5 program as of Sept 30. That was up from 6,346 a year earlier and 486 in 2006, the newspaper reported, citing USCIS figures.
Chinese nationals are the biggest source of EB-5 funds and make up about 85 percent of visas approved in the 12 months ended in September, according to the newspaper.