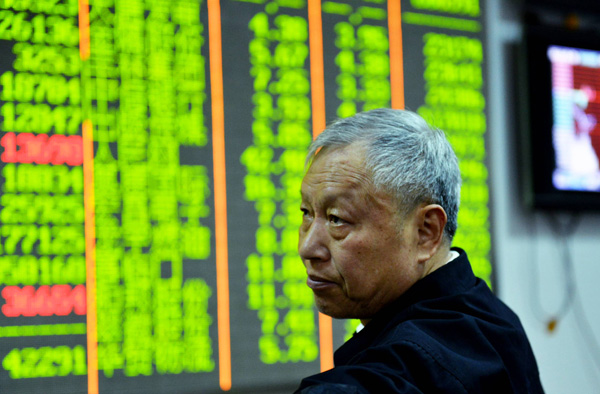 An investor checking stock index in a localbrokerage firm, at Hangzhou, Zhejiang province, June 13, 2014. [Photo / Asianewsphoto by Long Wei]
Chinese shares fell from four-year high amid volatile trading on Tuesday, with the benchmark Shanghai Composite Index swinging the most since 2010.
The Shanghai index ended a five-day rally and slumped 5.43 percent or 163.99 points to 2,856.27, while Shenzhen Component Index eclipsed 4.15 percent or 438.08 points to 10,116.49.
The overall turnover reached a record high exceeding 1.22 trillion yuan as volatility increased on Tuesday. The Shanghai index swung nearly 9 percent and edged down by the most since August 2009.
Shares that led previous gains slid the most on Tuesday, as 130 Chinese stocks including Aerospace Electronics, China Life, China Pacific Insurance and Sino Data plummeted by the daily limit of 10 percent.
Financial sector adjusted with Bank of Communication, Ping An Bank and Minsheng Bank dropping nearly 10 percent, and Hongyuan Securities, Haitong Securities and CITIC Securities slumping 8.73, 7.35 and 4.08 percent respectively.
The A-share hasn't stepped into a bull market given that China still faces problems in real estate market and default risk is still grave, said Tao Dong, chief economist for Asia excluding Japan at Credit Suisse, in a report.