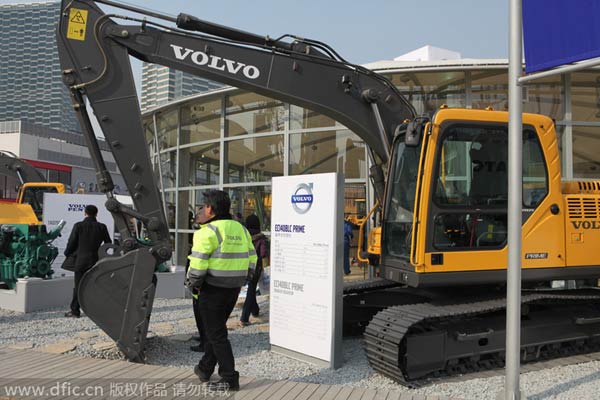 A Chinese employee walks past a Volvo excavator manufactured by Volvo Construction Equipment during the 2010 International Trade Fair for Construction Machinery, Building Material Machines, Construction Vehicles and Equipment, known as BAUMA China 2010, in Shanghai, Nov 25, 2010. [Photo/IC]
Foreign heavy machinery makers are banking on increased localization to counter growing competition from domestic companies, sluggish demand, and to further expand their presence in China, industry sources said.
South Korea-based Doosan Infracore, one of the world's top construction machinery manufacturers, said it is charting steps to further localize its operations in China, especially in research and development.
"There are different kinds of localization for a company, such as localized production and localized innovation," said Ouk-Jin Jeong, vice-president of the aftermarket division at Doosan Infracore China.
"It is important to have both, but with a high value of localization in innovation, we can launch a series of products to meet the specific needs of Chinese clients," he said.
Doosan Infracore set up its Chinese subsidiary in Shandong province in 1994. The company has three plants at present, with annual production capacity of 40,000 units of excavators and loaders. In January 2013, Doosan Infracore invested more than 80 million yuan ($12.9 million) to set up a R&D center for loaders in Yantai, Shandong province.
Slowing construction activity in China has led to falling machinery sales amid a weak economy and depressed property market, prompting several machinery makers to bank on the after-sales market of repair and maintenance services for growth.
The Seoul-based company said it plans to increase its aftermarket sales operations in the long run and has launched an extended-warranty plan. In July, it set up a national parts logistics center in Suzhou, Jiangsu province.
Yanmin Zheng, product-support vice-president of Doosan Infracore China, said the aftermarket sales account for just 10 percent of the total revenue, much lower than the average rate in developed markets such as the United States.
"Aftermarket sales will become a key driver for growth in China, especially as all the companies are facing a hard time," Zheng said. With competition now spreading to construction sites all over the country, other foreign companies are also sprucing up local procurement strategies to lower costs.
Volvo Construction Equipment, a part of Volvo Group, plans to expand business in China through its dual-brand strategy, said Chief Executive Martin Weissburg.
The Volvo and SDLG dual-brand strategy enables Volvo Construction Equipment to serve a wider customer base and to take up the leading market position in excavators and loaders in China.
As tough and challenging as it sounds, China's machinery market especially for wheel loaders and excavators is definitely worth the fight. The total revenue of the construction equipment markets rose to 566.3 billion yuan in 2013, an increase of a mere 0.7 percent, according to data provided by the China Construction Machinery Association.
A report published by market research firms IBISWorld and the All China Marketing Research said that machinery market revenue is set to clock an annual growth rate of 10.5 percent to $135.7 billion in 2014, despite a slowdown in growth in the world's largest machinery market.
Wu Yiyao contributed to this story.