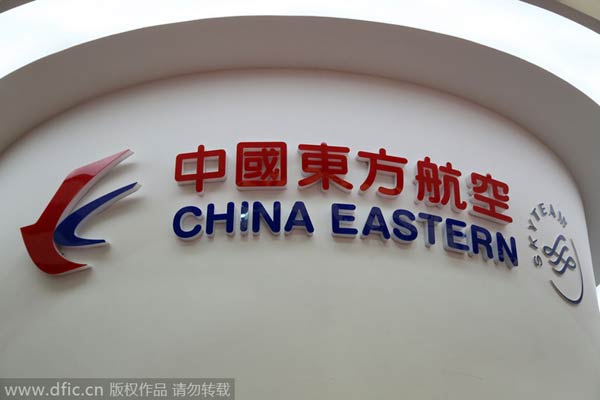 A signboard of China Eastern Airlines is seen during an exhibition in Shanghai, Nov 16, 2014.[Photo/IC]
An aviation maintenance company and an e-commerce firm were launched on Sunday by China Eastern Airlines Corp, one of the country's three major airlines.
The airline said that the move is aimed at creating new value and reaching a sustainable growth goal, as prospects for the industry remain grim.
China Eastern is the first domestic airline to run an independent aviation maintenance company.
"China Eastern expects the maintenance sector to become a new profit growth point for the group," said general manager Ma Xulun.
"This is also part of our ambition to deepen the group's development and transformation."
Ma said the engineering technology company will focus initially on a maintenance service for its own fleet before gradually offering this service to other airlines at home and abroad.
In three to five years, it is aimed for this company-Eastern Airlines Technic Co-to become an aviation maintenance firm with broad influence across the Asia-Pacific region.
With registered capital of 4.3 billion yuan ($699 million), Eastern Airlines Technic Co has evolved from a company set up in September 2006. It will provide a wide range of services, including maintenance, component repairs and training.
Shanghai-based China Eastern launched its e-commerce company in the China (Shanghai) Pilot Free Trade Zone.
The e-commerce unit has registered capital of 50 million yuan and aims to tap a vast client base, estimated at 100 million passengers annually.
Tang Bing, deputy general manager of China Eastern Airlines, said, "Many clients have complained about the limited products available for mileage awards.
"The e-commerce company will provide diverse choices for our passengers to trade for gifts with mileage accumulated in their accounts."
Clients will also be able to use their mileage at supermarkets, hotels, gas stations and banks, Tang said.
China Eastern reported that revenue for January to September edged up by 2.42 percent year-on-year to reach 68.7 billion yuan, but net profit fell by 39.68 percent year-on-year to 2.1 billion yuan.