China will introduce a deposit insurance system to protect depositors and promote fair competition among large and small banks, said the central bank.
The nation started soliciting public opinion on Sunday on the establishment of the system, which will be established in six months or a year, according to the People's Bank of China.
The central bank will cap insurance coverage at 500,000 yuan ($81,000) for each client's deposits at each bank. Such coverage will give full protection to 99.6 percent of the depositors in China, said Huang Xiaolong, deputy director-general of the bank's financial stability bureau.
Deposits exceeding 500,000 yuan will be protected under a fund to help well-managed banks acquire other banks that have serious problems, thus protecting clients by having their deposits transferred to well-managed banks.
"The deposit insurance system will strengthen the protection of depositors, effectively stabilize their market expectations and increase public confidence in the banking system," Huang said.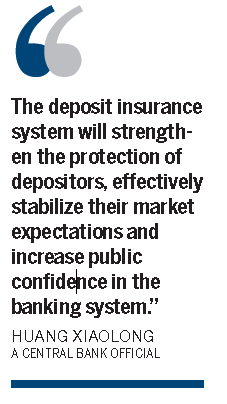 Guo Tianyong, director of the Research Center of the Chinese Banking Industry at the Central University of Finance and Economics in Beijing, said clients will feel safer about their deposits.
"The system will significantly raise the credit and competitiveness of small and medium-sized banks, rather than causing deposits to flow from small banks to large banks," Guo said.
Currently, more than 110 countries and regions offer deposit protection, which plays an important role in preventing and alleviating financial risks as well as maintaining financial stability.
The People's Bank of China will set different premium levels based on a bank's operating and risk management conditions. But for banks in general, the premium will not increase their financial burden and will have minimal impact on their profits before tax because it will account for only 0.5 percent of their operating costs, according to the central bank.
Zong Liang, deputy director of the Institute of International Finance under the Bank of China, said, "Establishing a deposit insurance system will set a crucial foundation for interest rate liberalization by reducing the risk for a run on a bank and increasing the stability of the financial system."
"Experiences from other countries have shown that the system will promote healthy development of community banks as well as small and medium-sized banks," Zong said.
Earlier this year, the China Banking Regulatory Commission approved the launch of five private banks in an effort to open up the State-controlled financial market and promote innovative models for the country's financial reform.
"As the number of private banks will continue to grow, the deposit insurance system will increase the public's trust in private banks and encourage fair competition in a more diversified banking sector," said Wen Bin, principal researcher at China Minsheng Banking Corp.