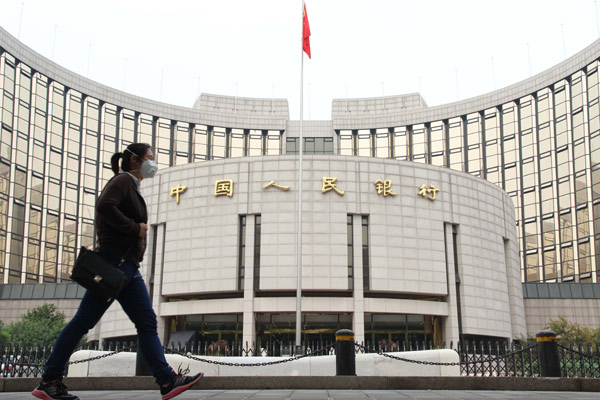 A woman walks outside the headquarters of the People's Bank of China in Beijing. The central bank will maintain a prudent monetary policy, said Hu Xiaolian, its deputy governor. [Wang Yueling / China Daily]
Official says PBOC is offsetting high real corporate debt costs, not easing
China will maintain a prudent monetary policy and use various measures to increase money supply, a central bank official said on Thursday.
"We have not changed our prudent monetary policy. The latest round of benchmark interest rate cuts aims at alleviating financing difficulties for small businesses, which should not be interpreted as a loosening of monetary policy," said Hu Xiaolian, deputy governor of the People's Bank of China, at the Caijing Annual Conference 2015 in Beijing.
"At a growth rate of 7.4 percent, the Chinese economy remains within a reasonable range, especially considering the economy is undergoing further restructuring. We are confident about achieving continuous and healthier economic growth," she said.
Effective last Saturday, the People's Bank of China cut the one-year benchmark lending rate by 40 basis points to 5.6 percent and the one-year benchmark deposit rate by 25 bps to 2.75 percent. Other benchmark deposit and lending rates were lowered accordingly.
The PBOC also raised the deposit rate ceiling from 1.1 times the benchmark to 1.2 times.
Hu disagreed with the interpretation of some analysts who have said that China is easing its monetary policy to bolster economic growth.
She said that the central bank cut benchmark interest rates to relieve the burden of financing for domestic companies, because real interest rates have been driven up by a decline in domestic price levels.
In October, the Producer Price Index fell 2.2 percent year-on-year, the 32nd month of decline in a row.
Although China has not changed the direction of its monetary policy, Hu said that does not mean the central bank will not use the monetary policy tools at its disposal.
"Money supply should increase along with economic growth and there are different choices of channels through which base money is supplied to the market.
"Some commentators and market insiders have said the PBOC has taken diversified measures to inject money into the market. They would be right if they interpreted it as a way to ... improve the efficiency of capital utilization," she said.
The PBOC has broadened its range of tools since the beginning of this year to encompass non-traditional tools such as the standard lending facility and pledged supplementary lending, as well as traditional tools such as cuts in interest rates and banks' reserve requirement ratios.
In its quarterly monetary policy report released on Nov 6, the PBOC confirmed it pumped 769.5 billion yuan ($125 billion) into lenders in the previous two months through a new medium-term lending facility.
The central bank injected 500 billion yuan in September and 269.5 billion yuan in October via the facility-all termed at three months with an interest rate of 3.5 percent.
The central bank also cut certain banks' reserve ratios in April and again in June, with the aim of providing targeted support to weak but crucial links of the economy. It is likely to expand the scale, size and frequency of monetary policy tools, according to officials and market insiders.
Sheng Songcheng, head of the PBOC's statistics department, said at a media briefing in July: "The PBOC will use monetary policy tools flexibly to maintain appropriate liquidity and achieve reasonable growth in total social financing", which is the broadest measure of credit in China.