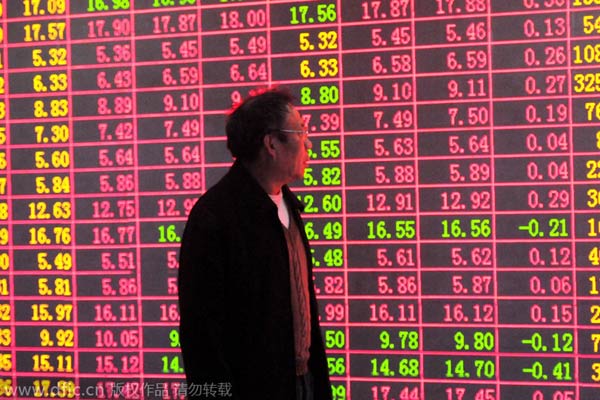 An investor stands in front of a screen displaying stock indices and prices of shares at a securities brokerage in Luoyang, Central China's Henan province, Nov 24, 2014. [Photo/IC]
SHANGHAI - Chinese mainland's A-share market extended its rally for the fifth day since last week's rate cut, reigniting flames of hope that a bull market is imminent.
The benchmark Shanghai index rose 1.43 percent to close at 2,604.34 on Wednesday. The rate cut pushed combined trading volumes at Shanghai and Shenzhen to a fresh high of 584 billion yuan ($95 billion) on Monday.
The central bank's change of tack has put a gloss on the market's lackluster performance since the launch of the Shanghai-Hong Kong Stock Connect program on Nov 17.
It may also have countered the negative effects of a new wave of public offerings in the A-share market. These new offerings usually suck up liquidity and send the market lower.
"Two factors are driving the latest rally: the interest rate cut caught many by surprise and the stock connect has fueled expectations that more funds will flow," said Shao Yu, chief economist with the Shanghai-based Orient Securities.
The rally has fed a growing belief that Chinese equities are heading for a bull market, but this belief has been around for quite some time. Analysts caution that the bounce may be temporary and a sustained rally will only come when economic fundamentals see a marked improvement.
"We have seen many signs of deceleration in growth, including weak industrial production, credit growth, corporate capital expenditure, commodities prices, and potentially exports a few months down the road. It seems to us that the People's Bank of China has been forced to cut rates in response to the sharp slowdown," said Tracy Tian, an equity strategist with Bank of America Merrill Lynch (BoAML) in a research note this week.
Analysts believe that more easing --including further rate cuts and reductions in the amount banks have to lock up as reserve -- are on the way. According to ANZ economists Liu Ligang and Zhou Hao, conditions for further policy easing are ripe. The economy is facing increasing deflationary risk. CPI inflation dropped to below two percent and factory price inflation has remained negative for more than two years.
So far, the rate cut has helped rate-sensitive sectors re-evaluate. Shares of banks, property firms, insurers and brokers have gained following the central bank's announcement.
"Given China markets' underperformance in recent years and their perceived low valuations, we believe that many investors are looking for reasons to buy and the rate cut may provide a temporary boost to sentiment." said BoAML's Tian, "However, we do not expect the rally to last because growth and corporate earnings will likely continue to disappoint. For the market to enjoy any sustained rally, we believe that a bad-debt cleansing event is a pre-requisite."
Yet Orient Securities' Shao doesn't think corporate earnings will get any worse. If anything, he expects them to get better after the rate cut and with some traditional players being revalued. "If the rate cut does translate into improved economic fundamentals, there will be more growth stories coming up," he said.
The central bank has refrained from across-the-board easing since last year, opting for innovative monetary tools to inject liquidity via selected lenders. These tools have had a very limited impact on financing costs.
Investors will be keeping a close eye on further action by the central bank, eager for signs of easing, but the central bank has said that Friday's rate cut is not a departure from prudent monetary policy.
"When it comes to the stock market, what the central bank says doesn't matter as much as what it actually does and how the market takes it," Shao said.