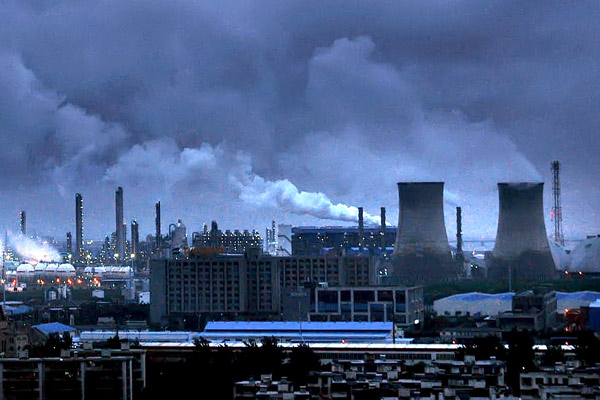 Smoke and vapor discharged from chimneys and condensing towers in a refinery in Ningbo, Zhejiang province. More Chinese enterprises are facing pressure to cut emissions. [Photo/ Provided to China Daily]
Firms see communication with the public, investors as way to cut risk
More Chinese companies are realizing the importance of disclosing environmental information to the public and investors, turning risks into opportunities against the backdrop of climate challenges.
According to the 2014 CDP Climate Performance Leadership Index, which is compiled by the international nonprofit organization Carbon Disclosure Project, 45 China-based companies that responded to CDP this year disclosed their carbon footprints, up from 32 companies last year.
The London-based CDP, representing 767 investors with total assets of $92 trillion, works with shareholders and corporations to disclose the greenhouse gas emissions of major corporations.
The goal is to use the data to evaluate, manage and reduce businesses' impact on the environment.
"Both the number of responding companies and the quality of their responses have increased in China," said Sue Howells, co-chief operating officer of CDP.
Chinese companies' answers to more than 80 questions in the CDP questionnaire significantly improved from last year and the information provided was much more accurate, systematic and structural, said the report.
In addition, 42 of the 45 respondents companies announced initiatives to address climate change and emissions performances through other channels, such as annual reports or other compliance documents.
By industry, companies from the finance, healthcare and energy sectors had a much larger presence than last year.
The three major State-owned oil companies - PetroChina Co Ltd, China Petroleum and Chemical Corp (Sinopec) and CNOOC Ltd - all responded to CDP. The other two responders in the energy sector were China Oilfield Services Ltd and China Shenhua Energy Co Ltd.
Seventeen companies in the financial sector responded to CDP.
"The unprecedented environmental challenges that we confront today - reducing greenhouse gas emissions, safeguarding water resources and preventing the destruction of forests - are also economic problems," said Paul Simpson, chief executive officer of CDP.
Investor engagement in environmental and climate change issues is increasing, he said.
"The Norwegian pension fund, Norges Bank, with assets worth $260 billion, expects companies to show strategies for climate change risk mitigation and water management, and they have divested from timber and palm oil companies that did not meet their standards," said Simpson.
China is working to eliminate obsolete production capacity, save energy, cut emissions and address climate change, and Chinese companies face rising policy risks. In response, they are enhancing communication with the government, industry associations and research institutions to increase their influence over policy, according to the report.
Lenovo Group Ltd was one of the two respondents to CDP this year from the IT industry. Li Jicheng, a manager in the company's environmental affairs, sustainability and standards division, said the company has installed solar panels in some buildings to utilize more renewable energy.
"We have to pay attention to our planet to achieve sustainable development because focusing merely on profit cannot help us achieve it," he said.