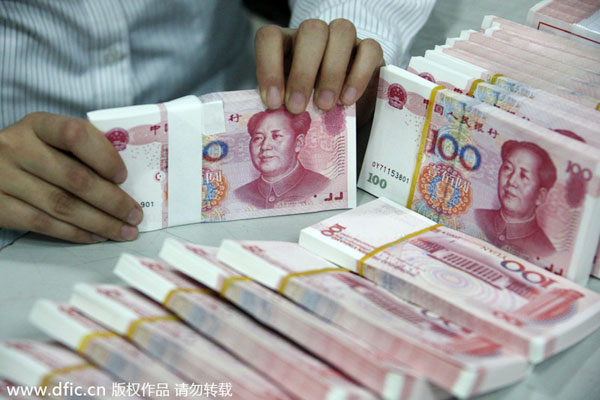 A clerk counts yuan bills at a bank in Huaibei, East China's Anhui province. [Photo/IC]

BEIJING -- The People's Bank of China (PBOC), China's central bank, announced on Friday the first interest rate cuts in more than two years.
"The purpose of cutting the deposit and lending rate is to bring actual interest rates back to a proper level and lower the financing costs facing many enterprises," said a PBOC statement after the rate cut was announced.
China's economy is still under pressure, problematic for businesses, especially smaller ones. "Tackling high financing burdens is especially important in stabilizing growth, creating jobs, and benefiting consumers," the statement said. The adjustment should provide a neutral and reasonable monetary environment for sustainable economic development.
"China has done a lot to address corporate financing difficulties this year, such as cutting the reserve requirement ratio for certain banks, but cutting interest rates is the most direct way to bring down costs," said Wang Jun of the China Center for International Economic Exchanges.
UBS chief China economist Wang Tao said in a research note that the cut is an important step toward lowering of real borrowing costs.
The central bank insists that the cuts are not a shift away from "prudent monetary policy", and the adjustment was a "neutral operation"; mere fine-tuning of monetary policy in line with changes in the real economy, which is still growing at a healthy rate. With industrial upgrades underway, the PBOC reckons growth is now more reliant on innovation than investment and "there is no need for strong stimulus."
Jin Zhongxia, director of the PBOC research institute also calls the rate cut "neutral".
"If the rates were not lowered with the economy under pressure, then one could argue that monetary policy is too tight," Jin said.
The cuts came as GDP expanded 7.3 percent year on year in Q3, compared with 7.5 percent in Q2 and 7.4 percent in Q1. Q3 growth was the slowest since Q1, 2009.
Wang Jun said that low consumer prices also provided room for the cuts. The consumer price index, a main gauge of inflation, grew 1.6 percent year on year in October, the lowest for more than four years.
The cuts, which took effect on Saturday, mean that the one-year deposit rate stands at 2.75 percent, while the one-year lending rate is at 5.6 percent.
Zhao Qingming, chief analyst of CFFEX Institute for Financial Derivatives, said that the asymmetric cut narrowed banks' profit margins, which could be interpreted as an attempt to shift part of the banks' profits to enterprises.
"The profits of banks are much higher than average profits in the real economy. In the perspective of China's long-term economic development,banks must portion part of their profits to the real economy and find new ways of generating profits," Zhao said.
Wang Tao argues that although the cut will hurt banks' net interest margin, it could benefit them by strengthening borrowers' balance sheets and reducing the risk of bad loans.
"The main effects of today's rate cut will be to reduce the debt servicing burden and improve corporate cash flow and balance sheets. This should help slow the pace of non-performing loan formation and reduce overall financial risk," Wang said.
She added that the biggest near-term beneficiary group will be mortgage borrowers, as mortgage rates will be reduced in tandem with the benchmark lending rate, helping to support property demand.