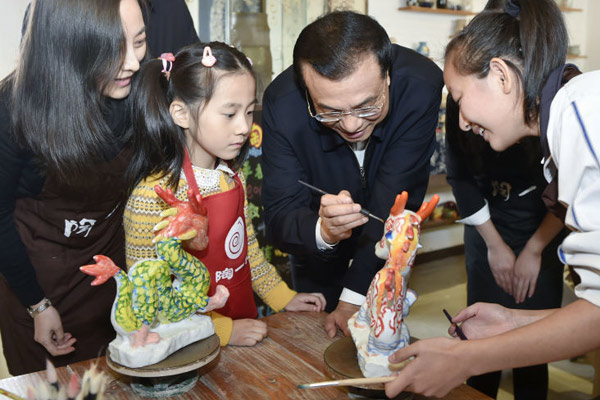 Premier Li Keqiang helps a girl paint her ceramic piece in a workshop in Hangzhou, Zhejiang province, on Nov 21, 2014. [Liu Zhen / China News Service]
Premier says flexibility in policies for private banks can ease funding woes
Premier Li Keqiang pledged to use differentiated policies, especially loan-to-deposit ratios, to help private banks alleviate the financing woes of small companies.
Li said policy variations are necessary and fair, since small banks have fewer resources than big lenders, and most of their clients are small and startup businesses that are the fundamental providers of diversified products and jobs.
He made the remarks during a visit to Zhejiang Tailong Commercial Bank in Hangzhou, Zhejiang province, on Friday.
The bank, established in June 1993 and headquartered in Taizhou, Zhejiang province, is a commercial bank dedicated to financial services for small enterprises. Ninety percent of its loans are below 500,000 yuan ($81,650).
"We must support small private banks. They are the ones closely connected with micro and small businesses and are more vulnerable than big lenders," Li said.
Ji Wenke, a client of the bank, said it is difficult for his company to borrow money from big banks because of their strict credit requirements. Some private banks can lend when big banks cannot.
It is the second time in a week that Li has addressed the funding difficulties of small businesses.
A meeting on Wednesday produced a list of measures, including flexibility in loan-to-deposit ratios, to ease financing. It also said performance assessments of Chinese commercial banks should be improved to curb the tendency to prefer big projects and high loan interest rates.
China has a loan-to-deposit ratio of 75 percent for commercial banks. Calls for a wider interest cut are also mounting on the market to ease the current liquidity shortage.
Wang Tao, head of China economic research at UBS Securities, said the development of small and medium-sized banks will play a role in easing financing difficulties for smaller businesses, including Internet companies.
"However, this will take some time," she said. Wang said she expected to see several interest rate cuts by the end of next year.
According to Lian Ping, chief economist with the Bank of Communication, "The Chinese banking sector is dominated by State-owned big lenders, and their needs are not perfectly in line with small and private firms, which bear the brunt of high financing costs. Changing the landscape of the banking sector is critical to reduce financing costs for the real economy."
Wang Jun, a senior economist at the China Center for International Economic Exchanges, argued that simple rate reductions cannot solve the financing difficulties for businesses, especially small and micro businesses.
"Because of lower risks, all banks, including small and medium-sized ones, tend to chase after the large enterprises to offer them loans," he said.
He said the government should guide small and medium-sized banks to further engage in local business services, and encourage them to better serve regional SMEs.
Wang Jun said that the reason that the interbank money market trading day was extended by half an hour was the capital liquidity squeeze.
"It shows that problems still exist in the current financial market. However, this doesn't necessarily mean that there will be a large-scale money shortage," he said.