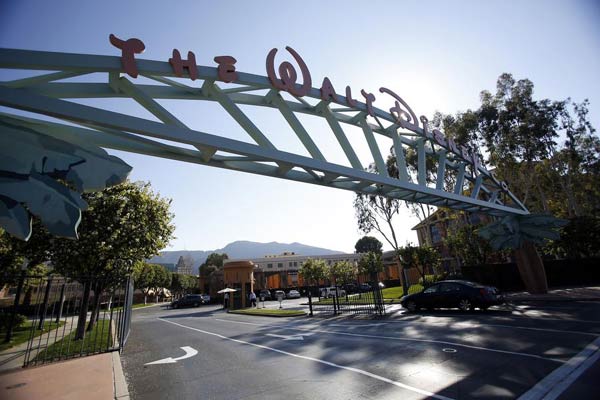 The entrance gate to The Walt Disney Co is pictured in Burbank, California February 5, 2014.[Photo/Agencies]
SHANGHAI - Shanghai Media Group (SMG) and Walt Disney Company jointly announced on Friday their cooperation will be extended to television content development, film co-production, content distribution and marketing.
"SMG's diverse platforms, digital destinations and assets provide audiences anytime access to great entertainment," Disney chairman and CEO Robert Iger said.
Li Ruigang, chairman of SMG said, "The initiatives we are announcing will serve as the cornerstone of actualizing SMG's vision in applying world-class creative process; contributing toward the success of local content creation for international markets and creating new business models across both digital media and traditional spaces."
Cooperation and exchange between the two companies has a history of 15 years.
A new Disneynature documentary is currently being made in China. The film, co-produced by Disney and SMG, will showcase China's wildlife and natural beauty to the world.
Disney is also in discussion with Toonmax TV under SMG to produce a kids' animation series.
In 2013, Disney and SMG's BesTV New Media company agreed to form a joint venture in Shanghai.