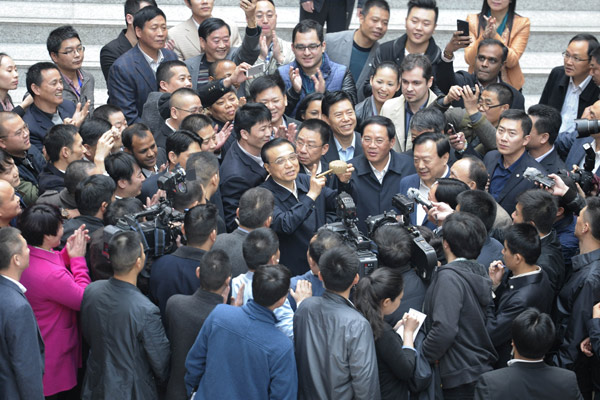 Premier Li Keqiang holds a traditional rattle given to him by a businessman at Yiwu International Trade City, Zhejiang province, on Thursday. He said the gift will be preserved at the National Museum of China as it represents the spirit of Yiwu. [Liu Zhen / China News Service]
Visit to market comes as key factory output indicator drops to 6-month low
Premier Li Keqiang visited China's largest wholesale commodity market on Thursday, taking the economy's pulse as a key factory output indicator slumped to a six-month low.
Some experts called for more fiscal and monetary easing, though others said the decline is a temporary result of the closure of factories during the Asia-Pacific Economic Cooperation meeting.
Li visited shops and booths at Yiwu International Trade City in Zhejiang province to ask about the difficulties they face.
Tamer Noman, a Yemeni businessman who has lived in Yiwu for 15 years, said he has felt the impact of declining orders in recent years, but remains optimistic.
"I still believe that the market is good in China," he added.
Li urged traditional businesses to embrace new trends such as e-commerce, rather than resisting them, to attract more customers and ensure their survival.
He said e-commerce has become the new driving engine of the Chinese economy because of its ability to boost consumption and create jobs.
The government must support the development of e-commerce even though its growth may clash with the interests of the traditional commerce sector, he added.
Experts said Li's trip to Zhejiang, which will continue until Friday, is likely to be the last fact-finding visit before the country's top decision-makers convene for their annual closed-door meeting in December to draw up economic policies for 2015.
The visit came on the day the HSBC Flash China Manufacturing Purchasing Managers' Index, an important economic indicator, fell to 50 from 50.4 in October - significantly lower than the 50.3 forecast by analysts.