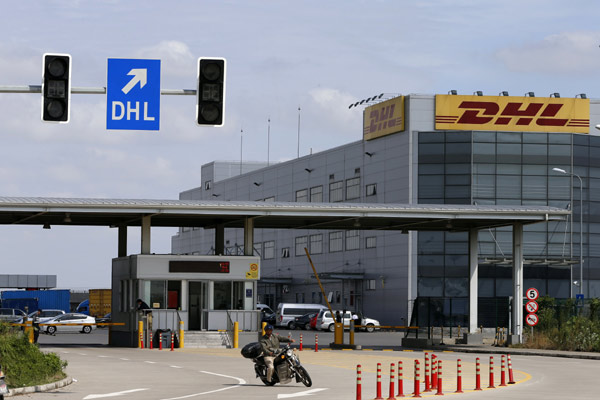 The DHL outlet in the China (Shanghai) Pilot Free Trade Zone. The company will invest another 113 million euros ($141 million) in the Chinese market. [Zhao Yun / For China Daily]
DHL Supply Chain, the world's largest contract logistics service provider, is investing another 113 million euros ($141 million) in China to further develop its business, after enjoying steady double-digit growth.
The new investment, added to an injection of 105 million euros in 2013, brings its total commitment in the country to 218 million euros, making the market one of its most important globally.
Oscar de Bok, chief executive officer of DHL Supply Chain Asia Pacific, said that by 2020 DHL expects to have set up another six logistics centers in Guangzhou, Hangzhou, Wuhan, Shenyang, Shenzhen and the China (Shanghai) Pilot Free Trade Zone, bringing its total national warehousing capacity to 1 million square meters.
He attributed the rapid business growth across emerging markets including China to the rise of the middle class who he said now demands more sophisticated logistics services.
DHL is expecting China's automotive, life sciences and pharmaceuticals industries to be the focus of its activities in coming years, the last two being driven by the nation's fast growing medical reforms, said de Bok.
With operations right around the world, DHL is using its global reach, he said, to offer customers in China a complete point-to-point delivery service without having to depend on any third-party operators.
The company plans to expand into the west of the country, particularly, in the next few years, a strategy already partly realized with the opening of its Chengdu logistics center earlier this year.
Zou Yin, managing director of DHL Supply Chain China, said: "One of the reasons for setting up this center was that some of our customers had moved their manufacturing centers to the city, where they are enjoying excellent infrastructure facilities.
"Chengdu is very likely to become one of DHL's global distribution centers."
The company is giving similar importance to its Shanghai FTZ operation which it plans to use as a focal point for international business, as well as acting as a future regional and global center, said Zou.