Lower crude prices giving nation and firms chance to build up supplies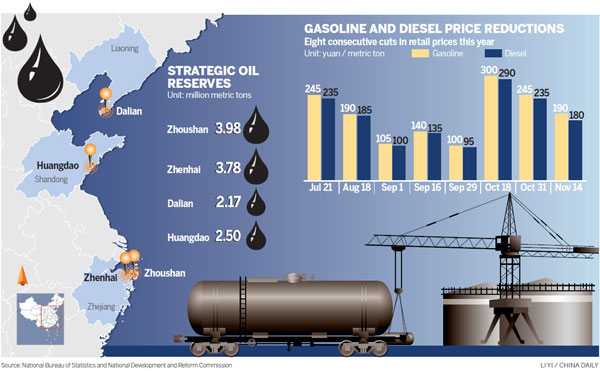 China has established the first phase of its strategic oil reserves with a crude storage capacity of 12.43 million metric tons, the National Bureau of Statistics said on Thursday in an online statement.
The first phase has four oil bases, one each in Zhoushan and Zhenhai in Zhejiang province, Dalian in Liaoning province and Huangdao in Shandong province.
The nation has been working to build a strategic reserve since 2003 to provide energy security as its oil use and imports grow.
During the G20 summit in Brisbane, Australia, President Xi Jinping said that China would release data on its oil reserves regularly as a commitment to data transparency.
The National Development and Reform Commission, the country's economic planner, said last month that China has completed plans for a second phase of reserve bases.
The government has not disclosed the locations for the second phase, although the original plan said that a 90-day reserve of oil would be established in three phases.
Han Xiaoping, chief information officer of China Energy Net Consulting Co Ltd, said that China disclosing its reserves will help stabilize world crude prices. "At the current consumption level, China should have reserves for 120 days."
Under the energy development strategy for 2014-20 announced by the State Council on Wednesday, China will complete the second phase of its oil reserves and then start the third phase by 2020.
The statement added that the government encourages private capital to participate in the construction of reserve bases, and it urged related companies to establish their own stockpiles.
Most developed countries have oil reserves for 90 days. Some countries such as the United States and Japan have even more.
However, China has only about 60 days of reserves at present, far below the international level, said Lin Boqiang, director of the China Center for Energy Economic Research at Xiamen University. China should continue building its reserves through imports, Lin said.
The prices of such international benchmark crude as Brent and West Texas Intermediate have been declining since June. These declines offer China a good chance to import more oil for the strategic reserves and commercial inventories, said Li Yan, a crude oil analyst at Shandong Longzhong Information Technology Co Ltd.
Customs data show China imported a record 253 million tons of crude during the first 10 months of this year. In October, imports jumped 18 percent year-on-year to 24.1 million tons.
During the past four months, imports soared, but refinery output did not increase accordingly, which means that the majority of the imports were for the strategic reserves, according to Li.
The International Energy Agency said recently that China will surpass the US to become the world's biggest oil consumer by 2030.