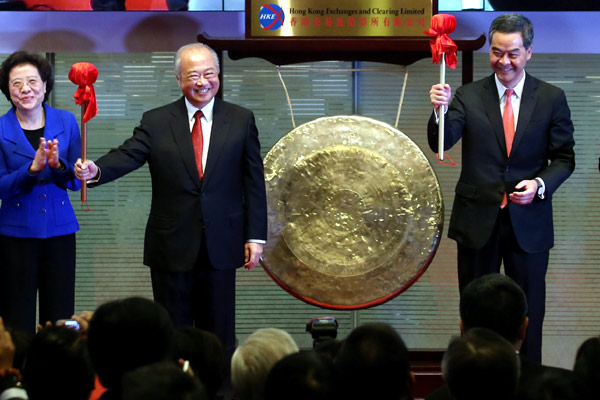 Hong Kong Exchanges and Clearing Ltd Chairman Chow Chung-kong (second left) and Hong Kong Chief Executive Leung Chun-ying (right) prepare to hit a gong during the launch ceremony of the Shanghai-Hong Kong Stock Connect, at Central in Hong Kong on Monday. [Roy Liu / China Daily]
Although the much-anticipated Shanghai Hong Kong Stock Connect program did not start with a bang on Monday, stock analysts in both cities have remained upbeat, saying that investors, especially those in Shanghai, will need time to digest the implications of this project.
To be sure, the benchmark indices in Hong Kong and Shanghai shot up at the opening, but investors' initial enthusiasm seemed to have faded as the day wore on.
The Shanghai Composite Index lost 0.19 percent to close at 2,474.01 against a lackluster turnover of 199.3 billion yuan ($32.4 billion), down from the average daily turnover of 248.5 billion yuan last week.
The performance of the Hong Kong exchange was even more discouraging with the Hang Seng Index falling 1.21 percent to close at 23,797.08 on turnover of a mere HK$83.02 billion ($10.7 billion).
But stock analysts in Hong Kong have remained hopeful, noting that the entire daily quota of 13 billion yuan for the purchase of Shanghai-listed A shares under the program was fully utilized within three hours after opening. That showed the strong appetite of Hong Kong-based institutional investors for A shares, which are seen as undervalued, analysts said.
In contrast, only 17 percent of the 10.5 billion yuan daily quota for buying H shares was taken up. Stock analysts explained that it would take time for the Shanghai investment public, dominated by many retail investors, to warm up to the program before they jump into a market with which they are not familiar.
"The situation could last for months, unless A share prices are pushed up by foreign investors to levels that make mainland investors consider shifting to the cheaper H shares," said Lu Wenjie, China equity analyst at UBS Securities.
Retail investors on the Chinese mainland are not as well-prepared as Hong Kong-based institutional investors to take advantage of the opportunities the program provides, said Lu, adding that many wealthy individuals on the mainland have already opened stock accounts in Hong Kong and are trading H shares.
What's more, the A share market has been outperforming the Hong Kong stock market recently, and they are reluctant to put their money in Hong Kong now, Lu added.
Mainland institutional investors aren't in a hurry to jump onto the Stock Connect bandwagon either.
"There were some arbitrage opportunities of going long on H shares, and shorting A shares, but many of the targets are small caps with limited liquidity. I think it is time for the institutional investors to take profit rather than put in more money," Lu said.
"The Stock Connect program is definitely changing China's financial market. It is significant in linking China to the global financial system, but it is not a market changer," said Aidan Yao, AXA IM Emerging Asia Economist.
"Foreign investors are enthusiastic about any exposure to the Chinese mainland, as they had quite limited access before. ... But the stock market is still based much more on fundamentals, like macroeconomic data, local loan development and also external market situations," he said.
Wu Yiyao contributed to this story in Shanghai.