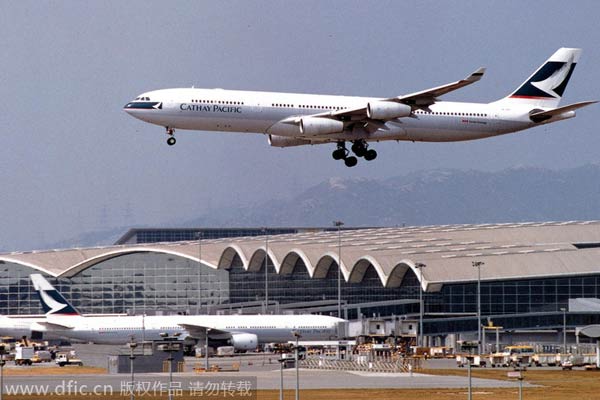 A Cathay Pacific Airways Airbus A340 prepares to land at Hong Kong International Airport, July 1, 2013. [Photo/IC]
HONG KONG - The Hong Kong International Airport (HKIA) was recently named the "Best Airport in China" by travel magazine Business Traveler China, and it was the eighth time in nine years that the title went to HKIA, the local airport authority said Thursday.
HKIA also won "Asia Pacific Airport of the Year-Industry Choice Award" by air cargo industry publication Payload Asia, and "Hong Kong Star Brands Award 2014Enterprise" nominated by local organizations.
Vivian Cheung, deputy director of airport operations of the Hong Kong Airport Authority, said "we are very pleased and honored to have received these awards, which are a great recognition from both the industry and the public."
HKIA clinched the "Best Airport in China" accolade from Business Traveler China for the eighth time in the past nine years. Readers participating in the publication's annual online survey voted for their favorite airport, hospitality organizations and airlines that provided enjoyable and hassle-free experience during their journeys.
Since the magazine launched its annual reader poll in 2005, HKIA took the same award in 2006-2008 and 2010-2013.
On the cargo front, HKIA was recognized as the "Asia Pacific Airport of the Year Industry Choice Awards" at the Payload Awards 2014 which was organized by the air cargo industry publication. Awardees were selected by an industry panel based on criteria including cargo growth and development strategy, operational performance, customer service, product innovation, competitive cost structures and services.
This industry recognition has reaffirmed HKIA's ongoing commitment to service excellence and to maintaining Hong Kong's position as a leading international and regional aviation center.
Locally, HKIA received the "Hong Kong Star Brands Award 2014- Enterprise" jointly organized by the Hong Kong Small and Medium Enterprises Association, Hong Kong Trade Development Council and Hong Kong Productivity Council. Decided by a judging panel of community leaders, the award commended HKIA for its services and reputation.