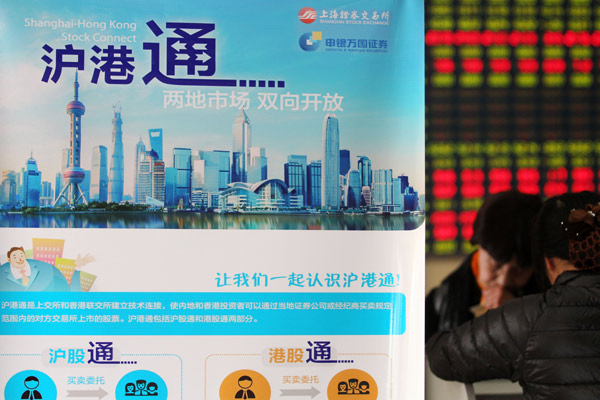 A billboard promoting the Shanghai-Hong Kong Stock Connect program at a brokerage firm in Nantong, Jiangsu province. The program is being viewed by many as China's attempt to gradually open its capital market. [Xu Congjun / China Daily]
Clearer already granted trading settlement and yuan-clearing licenses in HK
Bank of China, one of the country's four major State-owned lenders, said the launch of the Shanghai-Hong Kong Stock Connect program offers strong long-term benefits to its business but any immediate profit boost is unlikely.
Its share price surged by the daily trading limit of 10 percent on Wednesday following the Chinese securities regulator's announcement that the much-anticipated program that links the mainland and Hong Kong equities markets will officially start trading on Nov 17.
Zhang Qingsong, general manager of its payment and settlement business, told a news briefing that the program offered "limitless" long-term opportunities for Chinese banks as it will push forward the opening of the Chinese capital market and full convertibility of its currency, although any immediate gain is not expected.
The bank has gained licenses to carry out trading settlement and yuan clearing under the program in both Shanghai and Hong Kong. It is also the only bank appointed by the Hong Kong Securities Clearing Company Ltd to settle stock trading by investors in Hong Kong.
The Stock Connect program is being viewed by many as China's attempt to gradually open its capital market and to further lift the global profile of the Chinese currency.
Analysts said that it will widen the investment channels for offshore yuan trading and in turn boost global investors' desire to hold the currency.
"The program will help eliminate the differences in interest rates and exchange rates of the onshore and offshore yuan markets," Zhang said, noting that the long-term business potential will be "enormous" for banks involved in the yuan's internalization process and China's capital account liberalization.
Hong Kong regulators have just announced a scrapping of the daily 20,000 yuan ($3,264) conversion limit for local residents to facilitate better capital flows to the mainland stock market, a move expected to promote greater offshore yuan trading.
BOC said that the yuan/Hong Kong dollar trading volume will increase substantially and yuan deposits in Hong Kong will continue to grow as banks raise interest rates to attract more of the currency in preparation for the Stock Connect launch.
The bank settled a total of 1.77 trillion yuan last year in cross-border trading by institutional investors on the mainland.
BOC International (China) Ltd, its investment-banking arm, estimated that about 10 percent of its qualified clients will open trading accounts under the new program.
Tan Jiming, head of cross-border business management at its Hong Kong office, said that individual investors are expected to be cautious about using the program initially. Institutional Hong Kong investors, however, have already shown a strong appetite for the A-share market, in particular for undervalued blue chips and Chinese military and defense company stocks, which are scarcely traded in Hong Kong.
Some analysts said the start of the trading program is likely to trigger a bull run in China's equities markets, while others have suggested the impact will be limited, given its total trading quota of 550 billion yuan, a small amount compared with the combined capitalization of the Shanghai and Hong Kong markets.