The mining industry in Chile offers huge potential investment opportunities that Chinese companies have yet to tap, said Jorge Heine, Chile's ambassador to China.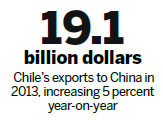 "The investment relationship between China and Chile should not be limited to the copper business, with the two countries playing the roles of consumer and supplier," said Heine.
Chile produced 5.78 million metric tons of copper in 2013, accounting for 31.5 percent of the world's total. The nation has 27.5 percent of global copper reserves and has attracted almost 42 percent of the world's copper mining investment.
Its copper production has allowed Chile to become the heart of South America's mining industry.
In 2013, Chile's exports to China rose 5 percent year-on-year to $19.1 billion. Of the total, copper accounted for 79 percent.
But Chinese companies see a broader range of opportunities in Chile and China is buying more diversified items from Chile.
In 2013, Chile's exports to China of minerals excluding copper were valued at about $4 billion, up 12 percent year-on-year. Those shipments accounted for 21 percent of Chile's total exports to China.
Chile is the world's top producer of natural nitrates, iodine and lithium, the third-largest producer of molybdenum and the eighth-largest producer of silver, according to government figures.
Andreas Pierotic, minister counselor for economic and commercial affairs with Chile's embassy in China, said that Chile hopes more Chinese companies will invest in agriculture.
He said that technology company Lenovo Group Ltd and COFCO Ltd, the largest oils and food importer and exporter in China, are both investing in Chile's agriculture sector.
Pierotic also said Chile is keen to benefit from Chinese companies' experience in the mining sector.
"We believe that Chinese companies' presence in Chile through investment and joint ventures in the mining sector is a new phase of bilateral relations that will enhance ties," said Pierotic.
He said that Chinese companies are usually not willing to form partnerships with local companies, but mining is not an industry where companies should work alone.
"Forming joint ventures is advisable but not compulsory," he said. "In recent years, Chinese companies have started to realize the importance and convenience of cooperating with local companies."