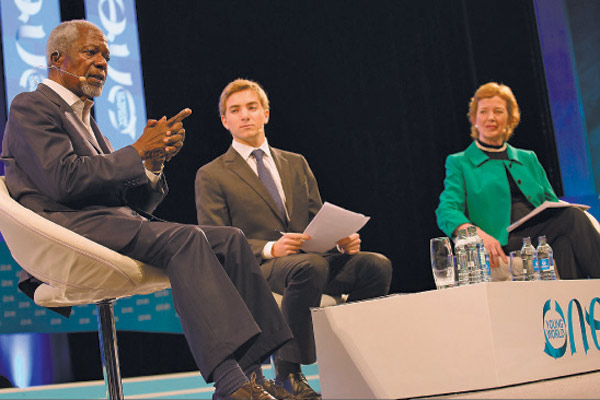 Former UN secretary-general Kofi Annan (left) and former Irish president Mary Robinson (right) at this year's One Young World summit in Dublin, Ireland. [Photo / Provided to China Daily]
Companies count on budding leaders to make the difference
A new wave of young talent is emerging in China's corporate world, leading the direction for the country's future growth.
These young leaders, in their 20s and 30s, are now reaching junior management levels in their companies, and are starting to have influence in their firms' decision-making. Their creativity and concern for sustainability are driving China's growth.
Cleo Ren, 31, a communications officer with the Dutch material science company DSM, is one such young leader with independent and creative ideas.
This year she helped her team organize five-kilometer charity walks in Shanghai Botanical Garden and Tongxiang Botanical Garden, in Tongxiang, Zhejiang province, to raise money for the World Food Program and help pay for 500 meals for poor children in less developed areas in China.
"We sent out e-mails to encourage our colleagues to take part in the program," Ren says. "And we also went to the parks and spoke to people to let them know about the event."
Leadership is about sharing thoughts with and inspiring others, Ren says. In this respect, she feels her line manager is a role model for her.
"She is so passionate and tries to inspire us every day by giving us her thoughts not just on work but the way she sees the world. It is very rare for a Chinese woman to be in the executive team of an international company, so her story is inspiring."
Ren was one of four Chinese participants at this year's One Young World, a conference that was first held in 2010 to allow young people to exchange views on important issues and interact directly with global leaders from business, politics, arts, science and sports.
This year's five-day conference was held in Dublin starting Oct 15 and was attended by 1,300 young leaders from 190 countries. Issues explored at the event included peace and conflict resolution, global business, human rights, sustainable development, education and leadership and government.
"One Young World is like the Olympics in the social field for youth," says Xu Zhenyin, another Chinese who attended the event. Xu is now in the Siemens graduate program in China.
Speaking before the conference, Xu said: "I am looking forward to being motivated by those well-known speakers. I am also eager to share my perspectives on many social topics with other young people.
"I hope I can find feasible ideas that would help China in some ways and put them into practice later after the conference."