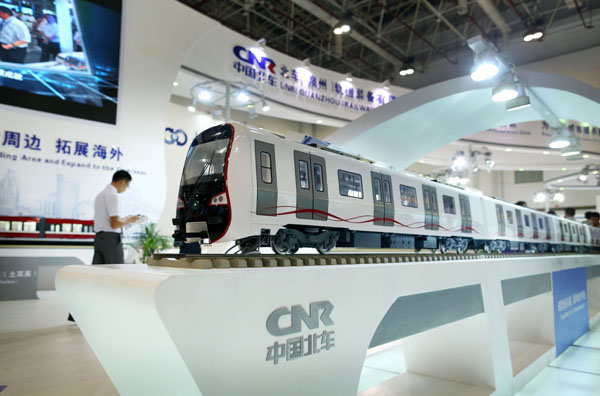 CNR Corp Ltd's stand at the 18th China International Fair for Investment and Trade in Xiamen, Fujian province, on Sept 8, 2014. The company is one of China's two largest locomotive makers. [Provided to China Daily]
Rail major CNR in the running to land rolling stock deal in California
State-backed China CNR Corp Ltd is making a pitch to sell its high-speed trains to California, signaling China's growing export ambitions for its rail technology after building the world's longest network in just seven years.
It marks one of the first concrete attempts by China to sell high-speed locomotives abroad and establish itself as a credible rival to sector leaders such as Germany's Siemens, Canada's Bombardier and Japan's Kawasaki.
CNR, its unit Tangshan Railway Vehicle Co Ltd and US-based SunGroup USA are submitting an expression of interest in California's $68 billion high-speed rail project for a contract to supply up to 95 trains that can travel as fast as 354 kilometers per hour, SunGroup told Reuters.
"We believe that high-speed rail is something that China does very well, and it's a product that we can export across the world," said SunGroup spokesman Jonathan Sun in a phone interview, adding that SunGroup, CNR and Tangshan Railway had been working together for four years.
Manufacturers are expected to send in expressions of interest by Wednesday to the California High Speed Railway Authority, which will later issue formal requests for proposals. About a dozen firms from places such as Japan and Spain are also expected to compete, it said.
California has been candid about its desire for Chinese investment in the 1,287-kilometer line from Los Angeles to San Francisco.
US media reports have said governor Jerry Brown met Chinese rail officials in April last year to discuss the project.
No estimates for the contract's value have been published, but in its 2014 business plan the California High-Speed Rail Authority estimated each trainset would cost $45 million, based on a purchase of 70 vehicles.
"We haven't officially gone out to bid yet. This is us saying to the industry that we need trainsets. They have to meet standards. We're asking, 'Are you interested in learning more, and do you think you could do this for us?'" said Lisa Marie Alley, deputy director of public affairs at the High Speed Rail Authority.
China has made no secret of its desire to export its high-speed technology abroad, having built over 12,000 kilometers of track at home in less than a decade.
CNR Corp and CSR Corp are China's largest locomotive makers, while China Railway Construction Corp and China Railway Group Ltd build track.