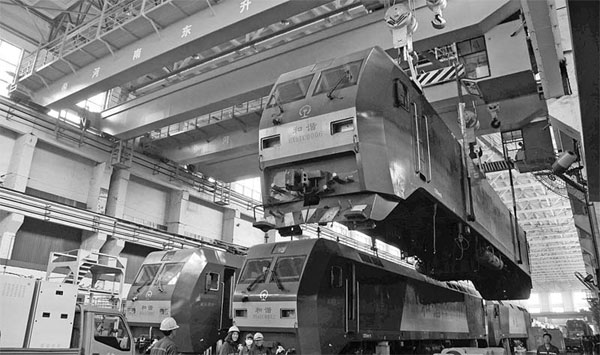 Locomotives being assembled at a workshop of CSR Zhuzhou Electric Locomotive Co in Hunan. The company is improving its manufacturing and maintenance capabilities in Malaysia to serve the needs of the whole ASEAN regional market. Provided to China Daily
Locomotive maker invests $131 million for manufacturing center in Malaysia
After shipping various rail vehicles to the global market for 17 years, CSR Zhuzhou Electric Locomotive Co is pulling out all stops to offer localized services, manufacturing and maintenance facilities in Southeast Asia's growing rail transit market.
As a subsidiary of China South Locomotive and Rolling Stock Co, which is considered the world's largest manufacturer of electric locomotives, the Hunan-based rail transit producer began its Southeast Asia journey from Malaysia in 2010 and so far has 38 electric multiple units running in Kuala Lumpur.
The company is investing $131 million to build a manufacturing and maintenance center in Malaysia to serve the needs of the whole ASEAN region, after gaining another 10 EMU orders and 30 light-rail vehicles from the Transport Ministry of Malaysia last year.
Zhou Qinghe, president of CSR ZELC, said as China's railway network grows, it is the time for the nation to export its technology, expertise and service model to overseas markets.
The ASEAN rail center is expected to be operational this year, with the annual capacity to produce 100 carriages and overhaul a further 150. It will create 800 jobs and would cover aspects like production, assembly, testing, overhaul and refurbishment.
"Because most Southeast Asian countries have just begun to build new railway lines or bought new trains, they are keen to acquire technological support from China to assist in the daily operations, maintenance, staff training and other services," said Zhou.
CSR ZELC established CSR Kuala Lumpur Sdn Bhd in 2011 to serve the busiest urban rail line crossing south to north in Kuala Lumpur and support maintenance services for the country's diesel locomotives. The company employs 80 people, with 14 of them gaining three months' training in Zhuzhou.
The new EMU trains and light-rail vehicles will be delivered to Malaysia in May 2015. The EMU trains will serve Kuala Lumpur's urban rail system and light-rail vehicles will be used for Malaysia's Ampang Line extension project, one of two light rapid transit rail lines operated in Kuala Lumpur.
With ASEAN nations such as Malaysia and Indonesia having a strong Muslim background, all the trains exported to these markets have been specially designed to have coaches for female passengers, as well as installing LED lights to add green element.
All electronic equipments and parts will use antiseptic and dehumidifying technologies to strengthen the operational ability of trains to cope with the tropical marine climate.
CSR ZELC's sales revenue amounted to 2.3 billion yuan ($373 million) in the Southeast Asian market in 2013, up 12 percent year-on-year. The company's main markets are Malaysia, Singapore, Indonesia and Thailand, with rising demand for electric locomotives, mass transit vehicles, engineering vehicles and suburban commuter trains in the ASEAN region.
Yuan Degang, deputy director of overseas business division at CSR ZELC, said although a lot of money can be made from selling trains, providing maintenance services can be another profitable market.