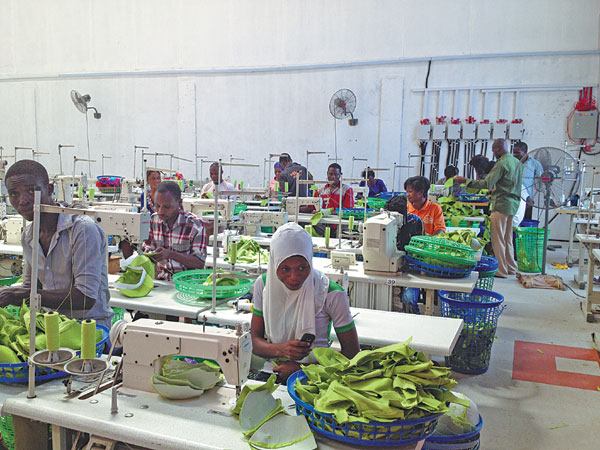 Workers at a textile factory in the Lekki Free Trade Zone in Lagos, Nigeria. [Provided to China Daily]
CALI's Lekki Free Trade Zone helps boost the local economy in Nigeria

Something taken for granted in many parts of the world, uninterrupted electric power, is one of the biggest attractions of a burgeoning free-trade zone on a peninsula on the outskirts of Lagos, Nigeria's commercial capital.
The upcoming completion of a 24-megawatt power plant in the Lekki Free Trade Zone is being touted as a major advantage by its developer, China-Africa Lekki Investment Ltd.
"It is difficult to imagine, but further development of our zone now hinges on the generator units," says Wei Xuemin, marketing director of the investment company known as CALI.
"However, for a country plagued by power shortages like Nigeria, a steady supply of electricity is an exciting incentive for enterprises, as it guarantees stable production and reduces mechanical wear."
The generator units will start operating at full capacity at the end of this month, making the zone on the Lekki Peninsula one of the few institutions in Nigeria that can provide a 24-hour, uninterrupted power supply.
Bordering Lekki Lagoon in the north and the Atlantic Ocean in the south, the zone covers an area of about 30 square kilometers with 90 percent for urban construction purposes.
CALI was registered as a joint venture in Beijing in March 2006 with authorized capital of $33 million among four Chinese shareholders: China Railway Construction Corporation Ltd, China Civil Engineering Construction Corporation, China-Africa Development Fund and Nanjing Jiangning Economic & Technological Development Corporation.
That same year, CALI launched the Lekki Free Trade Zone, and with two Nigerian partners - the Lagos State Government and Lekki Worldwide Investment Ltd - established the Lekki Free Zone Development Company to take charge of the zone's daily operation.
At that time, China had just started to promote the model of overseas economic and trade cooperation zones in Africa, saying it would build 36 such zones on the continent in three years. The Lekki project was approved by the Ministry of Commerce in 2007.
The peninsula has sandy beaches that attract tourists, but CALI also aims to develop a modern new city with integrated industries, commerce, real estate development, logistics and entertainment.
Once completed, the zone, with an expected annual GDP of $20 billion, could house 120,000 people and create 100,000 jobs.
"It will also become a driving force for Nigerian economic development and a showcase example of cooperation between China and Nigeria," Wei says.
Construction of a 50-km natural gas pipeline is also being negotiated with the Lagos State Government. "The removal of the major development barriers of natural gas and electricity will greatly boost investors' confidence in our zone," he says.
Inspired by the favorable production environment, more than 30 enterprises ranging from energy processing to project contracting have already established operations in the park with prospective total investment of $700 million. Fifty additional companies are finalizing investment agreements.