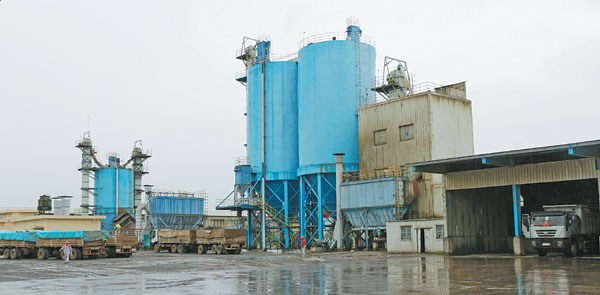 Zhong Shun Cement Manufacturing's plant in Ethiopia's Eastern Industry Zone cost $10 million to build. [Provided to China Daily]
Chinese cement producers in Ethiopia say they are experiencing toughening market conditions as demand falls and competition in the market grows.
The slump has left an oversupply at many factories, putting pressure on some companies to look at surrounding markets to meet their targets. It has also meant a marked drop in local cement prices.
One of the country's largest Chinese cement companies, Zhong Shun Cement Manufacturing, says that when it first started production in July 2010, its cement was mainly being used for the construction of the huge Eastern Industry Zone, the country's first dedicated industrial park, located 40 kilometers from the Ethiopian capital, Addis Ababa.
Its cement plant there was the first to set up in the zone, with funding of Jiangsu Yongyuan Investment Co Ltd from Zhangjiagang in East China's Jiangsu province.
Wei Zhijin, Zhong Shun's deputy general manager in Ethiopia, says that at the time the country was suffering from a shortage of domestically produced cement, as the second most populous country in Africa continued to enjoy rapid economic growth.
Numerous infrastructure and housing projects helped fuel a boom in demand for locally produced cement.
Zhong Shun's plant cost $10 million to build and was designed with an annual production capacity of 250,000 tons of cement. It had to import its clinker, the raw material for cement, from outside Ethiopia to cope with orders.
But now, Wei says, within what is a relatively short period, that has all changed.
"The Ethiopian market no longer suffers from a shortage of supply of domestically produced cement.
"In fact there are too many new cement projects, and this has had a serious impact on the market, which we expect to last for years to come.
"Cement has a shelf life, so we now produce according to orders we receive."
Despite the fall in demand, Ethiopia still stands third after Nigeria and South Africa as sub-Saharan Africa's leading cement producer. But according to the latest figures from Ecobank in Nigeria, Ethiopia's cement output has reached just 12.6 million tons this year, well short of original government targets.
The country's five-year plan (2010-14), known as the Growth and Transformation Plan, had predicted demand would reach 27 million tons by next year, but Wei says that prediction looks grossly exaggerated, and demand has failed to keep up with what has been fast-growing supply.