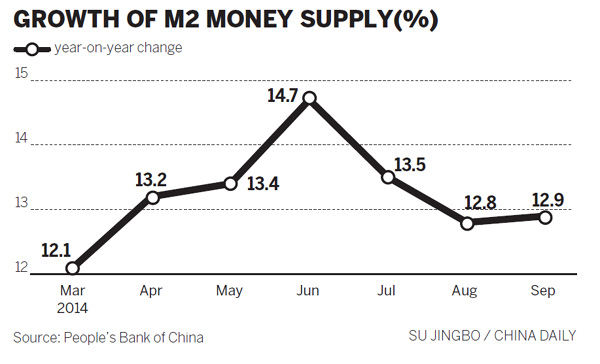 New local-currency loans rose for the third consecutive month in September to 857.2 billion yuan ($140 billion), up 70.2 billion yuan from a year earlier, and analysts said the increase shows that the economy has stabilized with the help of mini-stimulus measures.
M2, the broadest measure of money supply, expanded 12.9 percent year-on-year, the People's Bank of China said on Thursday. Foreign reserves were $3.89 trillion as of Sept 30.
Sheng Songcheng, head of the statistics and analysis department of the PBOC, said that M2 money supply will keep increasing steadily and its growth will stabilize at a target range of about 13 percent.
But he warned that credit growth will slip in general because potential growth is slowing down, and people should view this trend objectively.
Lian Ping, chief economist with the Bank of Communications Co, said: "Previous policies have taken effect and maintained the stability of financial markets and economic operations. China will continue to follow a prudent monetary policy and give priority to fine-tuning measures.
"I believe that slight adjustment of interest rates and the reserve requirement ratio should also be considered to fine-tune the economy."
While total social financing increased to 1.05 trillion yuan in September from 957.4 billion yuan in August, the shadow banking components-such as bank acceptance bills and trust loans-fell by 141.1 billion yuan and 32.6 billion yuan, respectively.
Zhu Haibin, JP Morgan China's chief economist, said in an e-mail to China Daily that the slowdown in non-bank financing is mainly a result of tighter regulation of shadow banking.
A new rule on interbank activities announced in May removed regulatory arbitrage incentives for banks to support various channel businesses via the interbank markets.
These moves led to a compositional shift in total social financing statistics.
The share of bank loans rose from an average of 54.5 percent in the first half of 2014 to 85.1 percent in the third quarter.
Also, the share of medium- and long-term loans in total bank loans rose from an average of 57.2 percent in the first half to 65.3 percent in the third quarter.