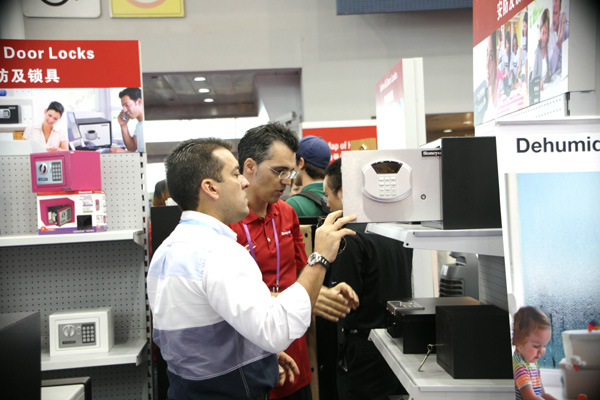 A United States manufacturer displays its electronic security products at the China Import and Export Fair which opened on Oct 15, 2014 in Guangzhou, Guangdong province. Direct investment into China from the US grew 32.3 percent to $1 billion in the first three quarters of the year. [Provided to China Daily]
Foreign direct investment in China recovered in September from a sharp decline a month earlier, easing concerns over weakened external confidence in the Chinese economy.
China attracted $9 billion in FDI in September, up 1.9 percent from a year earlier, the Ministry of Commerce said at a press briefing on Thursday.
It rebounded from the sharp decline of 14 percent to $7.2 billion in August, a four-year low that triggered fears of possible outflow of foreign investment in the aftermath of the antitrust measures against some multinational companies.
Economists said China is still one of the most attractive investment destinations in the world despite its economic slowdown and a cooling property market.
"Even a growth rate of 7.5 percent is impressive enough for the world. So China is still an attractive option for foreign investors," said Chen Taotao, a professor at the School of Economics and Management of Tsinghua University.
Stable political and economic environment, sound infrastructure and high quality labor force are factors that would help sustain foreign investors' confidence in China, experts said.
But total FDI in the first three quarters went down by 1.4 percent from a year earlier to $87.4 billion, the ministry said.
Chen suggested that people not read too much into the monthly data, which could be highly volatile and may fail to provide a mid- to long-term picture of foreign investment.
In the long run, China will see a structural change in the FDI, Chen said, noting that foreign investment will gradually flow out of industries such as labor-intensive sectors and go to mature sectors with huge potential and those that require highly skilled labor as the country moves up the global value chain.
Chen's comments echoed the data from the ministry, which showed that China's service sector is becoming increasingly attractive to foreign investors. Foreign investment in the sector grew 8.7 percent year-on-year to $48.6 billion in the first three quarters.
In contrast, FDI in the manufacturing industry slumped 16.5 percent to $29.6 billion.
Ministry spokesman Shen Danyang said on Thursday that China would maintain stable FDI growth this year.
Among the top 10 sources of FDI, investment from South Korea saw the biggest increase in the first three quarters, surging 32.5 percent to $3.2 billion. It was followed by investment from the United Kingdom, which grew by 32.3 percent to $1 billion.