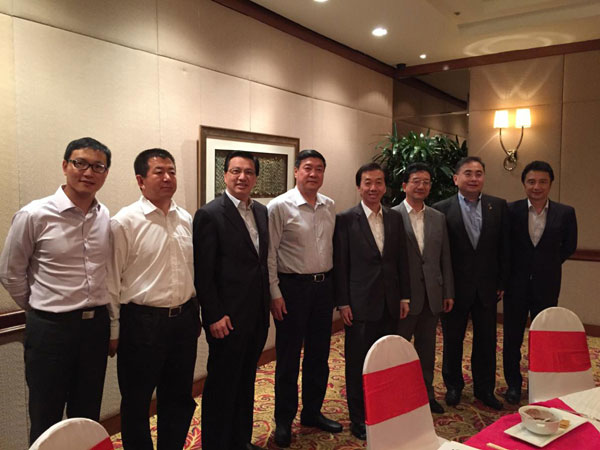 Wang Wenbiao, president of Elion China (No 4 from left), with Malaysian government officials on Oct 2.[Provided to chinadaily.com.cn]
As the Chinese government vows to rejuvenate the Maritime Silk Road, Chinese companies quickly respond by establishing partnership with countries along the road, beginning from the closest neighbors - Southeast Asia.
Earlier this month, Elion China, a major private player in China's desert agriculture and energy development, established a partnership with Malaysia-China Chamber of Commerce and the Associated Chinese Chambers of Commerce and Industry of Malaysia to cooperate in modern agriculture, clean energy and trade projects along the Maritime Silk Road.
Wang Wenbiao, president of Elion China, signed an agreement with Malaysian enterprises last week, to jointly invest in Malaysian regional ecology and energy projects and these projects which will soon be virtualized by the two parties.
Elion China, based in Inner Mongolia, is known for its unique business model under bad environmental conditions. Its star project is located in kubuqi desert where the company cultivate TCM plants and build solar energy center. The selected plants are used to this tough environment and can generate lucrative revenue on the market. Meanwhile, these plants can slow down the desert expansion and gradually transform the desert areas into arable lands.
Started 26 years ago by Wang, the business model was once praised by former premiere Wen Jiabao as"turning sand into gold".
During Wang's meetings with more than 60 Malaysian entrepreneurs, many businessmen showed great interest in Elion's green business model.
Li Shenjing, CEO of IOICORP,also known as the "palm oil tycoon" in Malaysia, pledged to develop a long-term partnership with Elion.
During his stay in Malaysia, Wang visited Sabah and Labuan areas to seek investment opportunities in palm tree related industries.
Huang Huikang, Chinese ambassador to Malaysia, said the cooperation between China and Malaysia is "turning from gold to diamond".
"The rejuvenation of Maritime Silk Road brings in enormous business opportunities for China and Malaysian enterprisers, and we should try to seize these opportunity by expanding bilateral trade and investment cooperation."
"This year marks the 40th anniversary of China and Malaysia's establishment of diplomatic relations, and I hope Elion's visit can bring the good business model to Malaysia, and pave way for further business cooperation between the two countries," he said.