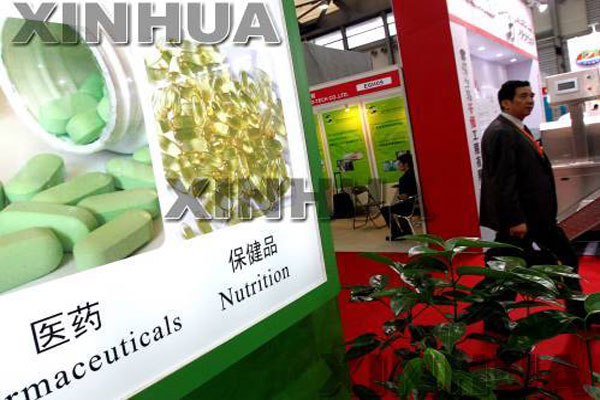 Customers visit the fifth Healthplex and NPC 2014 Expo held in Shanghai, June 27, 2014. [Photo/Xinhua]
Eva Long is passionate about exercising. She goes to the gym three times a week and has a personal trainer. But the 30-year-old also takes a weight management product to improve her fitness. She spends about 6,000 yuan ($967) a year on nutrition and weight management products.
"Sometimes my busy work schedule does not allow me to exercise, so weight management products serve as an alternative to keep me in shape without going to the gym," said Long, adding "and you don't have to starve yourself or suffer from malnutrition."
According to Li Keji, professor in the department of nutrition and food hygiene at Peking University's School of Public Health, obesity rates in China have been increasing rapidly, with the percentage of overweight adults estimated at about 30.6 percent and obese adults at 12 percent.
The market for weight management was estimated to be worth about 6 billion yuan in 2012 and is expected to soon exceed 10 billion yuan.
Although weight-related issues are not as prevalent as in Western countries, an increase in the number of urban Chinese has coincided with the greater use of weight management products.
Herbalife Ltd, a United States company specializing in weight management products, has cashed in on the surging demand to control weight in China.
Herbalife officially started its operations in China in 2005. By last year, product sales in China had increased by 60 percent to 4 billion yuan. Sales in China increased 91 percent in the first quarter of 2014 and enjoyed a year-on-year increase of 38 percent in the second quarter.
The Chinese market ranks as the third-largest out of six regions worldwide, and the rate of its increase tops all markets.
Against the backdrop of obesity as a megatrend in the world, there is not much difference between China and other countries in this regard, according to Herbalife.
"We believe that gender and age make much more difference than regions when it comes to obesity," said the company, which has two factories in Suzhou and one in development in Nanjing. Herbalife's botanical extraction center in the Xingsha Development Zone of Changsha, Hunan province, will be mainly responsible for collecting raw materials, including tea, aloe, fruits and vegetables, the company said.
According to its reported second-quarter financial results, Herbalife's net sales globally reached $1.3 billion, an increase of 7 percent compared with the same period in 2013 on volume point growth of 5 percent.
Its second-quarter 2014 net income was $119.5 million, compared with $143.2 million for the same period in 2013.