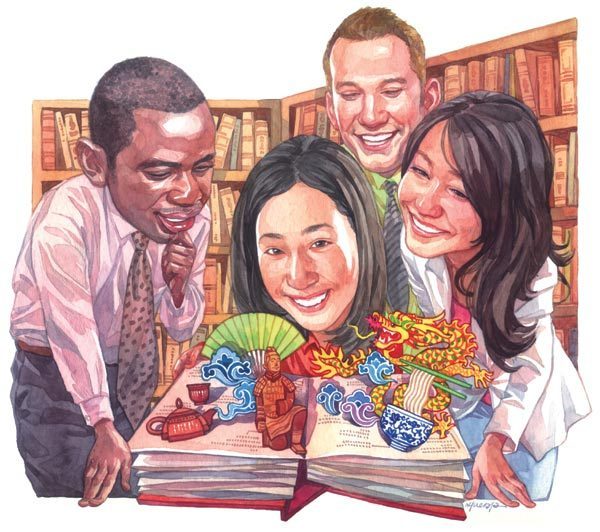 Li Min/China Daily 
The official opening of the China Studies Centre at Oxford University, the largest such center in
Europe
, was a fanfare event.
Prince William, who officially launched the center on Sept 8, told those assembled: "Learning from and learning about China has never been more important than it is now."
Although the occasion was slightly upstaged by news of an impending royal birth, which meant the Duchess of Cambridge could not attend with her husband as planned, the new center is seen as a further landmark in the academic study of China around the world.
The 21-million-pound ($33.7 million; 26.2 million euros) center in the grounds of St Hugh's College, is a far cry from the China (mostly East Asian) centers in the United States that largely emerged out of the Cold War in the 1950s and 1960s and were funded by the Ford Foundation and others.
It will compete against other European China studies centers, including Heidelberg University's Center for East Asian Studies, launched nearly a decade ago, and the newly established Graduate School for East Asian Studies at Freie Universitat in Berlin.
There are also centers emerging in parts of the world where China has new influence such as in Africa, with the Centre for Chinese Studies at Stellenbosch University in South Africa's Western Cape Province and also new ones in Latin America in both Brazil and Argentina.
The Oxford center will be home for 25 permanent faculty members (although 45 academic staff work on China at the university as a whole) and will be headed by one of Europe's leading Sinologists, Rana Mitter. It is the reaffirmation of a 400-year association with China, which began with a major collection of Chinese books at the Bodleian Library.
William C Kirby, TM Chang Professor of China Studies at Harvard University, who was speaking from Hong Kong, says the opening of the Oxford center was a landmark event in the development of China centers.
"Oxford in recent years has done a remarkable job in bringing together this extraordinary team of leading academics on China in such a beautiful faculty building," he says.