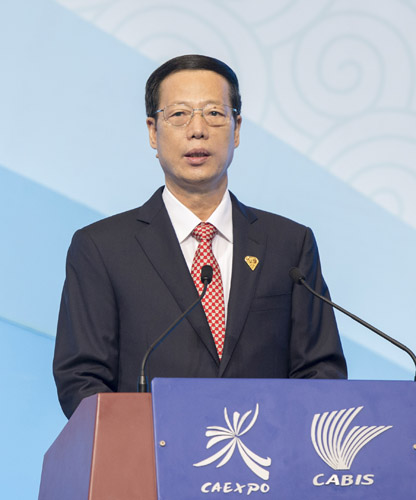 Vice Premier Zhang Gaoli speaks during the opening ceremony of the 11th China-Asean Expo on Sept 16, 2014. [Photo / Xinhua]
China renewed its commitment of cooperation with its ASEAN neighbors, promising to solve border disputes, build communal economic area along the border and start talks to expand a free trade agreement.
In a speech at the opening ceremony of the 11th China-Asean Expo on Tuesday, Vice Premier Zhang Gaoli made six suggestions to deepen China-ASEAN ties that include offering 150,000 Chinese college slots to ASEAN students and building financial infrastructure to strengthen the application of the yuan in China-ASEAN trade.
To strengthen mutual political trust, Zhang reiterated China's line to hold open talks directly with countries that it has border disputes with, to reach agreements.
Zhang promised to start as soon as possible the next of round of talks with ASEAN to upgrade the China-ASEAN Free Trade Agreement, to further open up each other's market and lower tariff. China is also looking to sign more agreements with ASEAN to strengthen cooperation in energy, environment and sustainable development.
China will strive to raise bilateral trade to $50 million in 2015 and $1 trillion by 2020. China-ASEAN trade has jumped to $44.38 million in 2013 from $6 million in 2003, when the China-ASEAN Expo is first held.
Zhang proposed to make 2015 the year of China-ASEAN maritime cooperation, as part of a plan President Xi Jinping announced last year to build a maritime Silk Road intended to revive a trade route running from China through Southeast Asia and the Indian Ocean to Europe.