Marriott joins forces with 100 Chinese colleges to offer over 20,000 hospitality training opportunities in the next four years
Tianjin, China – September 10, 2014 – Today at the World Economic Forum's Summer Davos Forum in Tianjin, Marriott International, Inc., a world-leading hotel group with over 70 properties in China, announced it has launched a series of educational initiatives to accelerate the country's progress toward building a knowledge-based economy.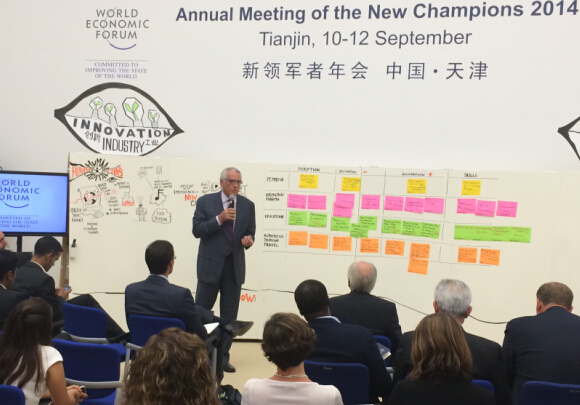 Simon Cooper, President and Managing Director, Marriott International, Asia Pacific facilitates "The Future of Jobs" session at Summer Davos. [Photo provided to China Daily]
Marriott International's educational initiatives in China encompass university, vocational and primary education.
For pure hospitality education, Marriott International is working with some 100 local colleges to offer over 20,000 projected training opportunities in the next four years to students aspiring to a hotel career.
In addition, the Marriott China Hospitality Education Initiative (CHEI), an ambitious hospitality education charitable effort funding by The J. Willard and Alice S. Marriott Foundation with Marriott International as the program's first industry advisor, is expected to impact up to 20,000 students annually in 50 schools within five years.
"China has made remarkable economic achievements during the past three decades, but to sustain its position as a major economic powerhouse in the long run, it will need to continue elevating the skill sets of its workforce," said Simon Cooper, President & Managing Director – Asia Pacific, Marriott International.
"This is exactly what the 2014 Tianjin World Economic Forum aims to shed light on, and how our pledge of educational support for China comes into play," said Cooper, who is attending the Forum which has the theme "Creating Value through Innovation" this year.
"A key feature of the educational support we provide to China is that it is far more than the typical on-the-job, skill set training offered by the hotel industry. In addition to a robust in-house training and development curriculum, Marriott International has been taking a long-term and holistic approach to support education in China. Our efforts encompass university, vocational education and primary education where Marriott International has been taking an active role in the implementation of various initiatives. We are committed to supporting China's seamless evolution to a knowledge-based economy and meeting the challenges of the modern era," said Cooper.
Cooper noted that the hospitality industry is one of the important pillars of a knowledge-based economy.
"As a global leader in the hotel industry, Marriott International is well poised to make an impact to the development of hospitality education in China," said Cooper.
"In light of the rapid expansion of our hotel network in China, we are in a position to offer ample training opportunities to ambitious students throughout the country. I would say that the 20,000 placement projection is probably on the conservative side and could easily be increased to 30,000. Putting this in perspective, Marriott International's support won't just be for our own benefit, but also for the long-term development of the industry in China as a whole," he said.
He listed the latest educational support initiatives of Marriott International in China as follows:
Marriott Apprentice Program (MAP)
Announced a couple weeks ago in Tianjin, "Marriott Apprentice Program" (MAP program) is a collaboration between Marriott International, the prestigious Nankai University and American Hotel & Lodging Association Educational Institute for China. This is a pioneering hospitality education initiative that innovatively integrates a sustained internship with both on campus and online learning.
Nankai University will enroll students nationwide for the MAP program. It is also responsible for providing the curriculum, classroom instruction and coordinating the program. The enrolled students are expected to undergo a five-year comprehensive hotel education program that consists of 18 months of learning on campus, 38 months of combined online learning and internship at Marriott hotels in two phases, as well as a final evaluation featuring progressive performance appraisal of the internships.
Students who have successfully completed the MAP program will receive graduation certificates from Nankai University, as well as internationally recognized certificates from the American Hotel & Lodging Educational Institute. They will also receive supervisory job offers from Marriott International. For those outstanding graduates of the MAP program, they will seamlessly be connected to the Global Voyage Program, Marriott's proprietary "future leader incubator" targeting elite university graduates worldwide.
Marriott China Hospitality Education Initiative (CHEI)
The J. Willard and Alice S. Marriott Foundation has committed 40.5 million yuan ($6.5 million) over five years to support China's youth through the Marriott China Hospitality Education Initiative (CHEI). The purpose of this initiative is to enhance the hospitality education of Chinese youth, preparing them for rewarding careers in China's booming travel and tourism industry. The Marriott CHEI program anticipates impacting up to 20,000 students annually in 50 schools within five years. Marriott International is privileged to act as CHEI's initial industry advisor.
The J. Willard and Alice S. Marriott Foundation, a private family foundation, has a long history of helping youth secure a promising future. For over two decades, the foundation has been a lead supporter of innovative hospitality programs within colleges and universities across the United States. As the hospitality industry becomes increasingly global, the foundation's efforts have expanded to parts of the world where they can have the greatest impact. China provides just such an opportunity.
The Marriott Foundation selected San Diego State University (SDSU) to be CHEI's academic advisor. Home to a world-class hospitality and tourism management school, SDSU has been working for several years with Chinese schools, industry experts and government officials—regionally and nationally—to develop programs that are respected globally and are uniquely Chinese.
Marriott International, which has a substantial presence in China, has agreed to serve as CHEI's initial industry advisor. CHEI will benefit from Marriott International's experience in China, and from the company advising on curriculum relevance, assisting with data to measure program outcomes, hosting faculty internships at partner schools, and providing hotel internships for students.
Marriott Institute and Marriott Class for Hospitality Education
Marriott International has been taking an active role in working with reputable institutes to offer quality vocational training in hospitality. The company has already established a Designated Marriott Class in over 20 local institutes throughout China. Marriott International provides the students of these classes with a variety of support including guest lectures, career counselling, field study and internship opportunities. In 2014, three additional Designated Marriott Class have been established with East University of Heilongjiang, Shenyang University and Liaoning Vocational and Technical College of Modern Service.
Marriott International also plans to forge comprehensive co-operation with elite vocational training institutes in the form of a Marriott Institute. The first of such partnership is with Anhui Zhong-Ao Institute of Technology that co-recruits and trains some 300 students every year exclusively for Marriott hotels in eastern China. The second Marriott Institute is a collaboration with Shunde Polytechnic which was confirmed in mid-2014.
Marriott – Yao Foundation Project Hope Primary Schools
Marriott International has been working with the Yao Foundation to support educational programs for children in rural areas of China. The Yao Foundation is a highly regarded charity organization established in 2008 by former professional basketball star Yao Ming under the auspices of The China Youth Development Foundation and aims to promote the all-round development of Chinese youth by providing them the opportunities to improve their education, sports skills, health and self-esteem - www.yaofoundation.cn.
Under the terms of the three-year agreement, Marriott International is donating 5 million yuan to the Yao Foundation to establish three Project Hope schools in the Southwestern region of China. The Marriott donation will also be used to support the Yao Foundation Hope Primary School basketball seasons in 2014 and 2015.
The first of these Marriott-Yao Foundation Project Hope Primary Schools, located in Luzhou of Sichuan Province, has already been built and in use.
"China has one of the oldest and most respected education systems in the world. The ultimate goal of our education support initiatives is to help growing numbers of young Chinese climb the career ladders available in the hospitality industry. They in return will become the driving force of the future development of the Chinese economy. This will benefit all the players in this important market including Marriott International," said Cooper.
Marriott International is expected to grow its distribution from 16 cities in 13 provinces, municipalities and special administrative regions, to more than 58 cities in 26 provinces, municipalities, autonomous regions and special administrative regions in China by 2017. By 2017, Marriott's total workforce is expected to increase to more than 75,000 associates in the continent – almost doubling its current size in the region– with nearly half of this number in China alone.
Marriott International
Marriott International, Inc. (NASDAQ: MAR) is a global leading lodging company based in Bethesda, Maryland, USA, with more than 4,000 properties and 690,000 rooms in 78 countries and territories. Marriott International reported revenues of nearly $13 billion in fiscal year 2013. The company operates and franchises hotels and licenses vacation ownership resorts under 18 brands. Marriott has been consistently recognized as a top employer and for its superior business ethics. The company also manages the award-winning guest loyalty program, Marriott Rewards® and The Ritz-Carlton Rewards® program, which together surpass 45 million members. For more information or reservations, please visit our website at www.marriott.com, and for the latest company news, visit www.marriottnewscenter.com.