Ambassador is confident bilateral investment treaty will be achieved
The new European Union ambassador to China said it does not make sense to say the country is targeting foreign companies for antitrust investigations based on just one or two cases.
Hans Dietmar Schweisgut, speaking on Tuesday at his first news conference since arriving in Beijing on Friday, said the EU is looking forward to a constructive dialogue on antitrust issues and will push forward a bilateral investment treaty during his tenure in China.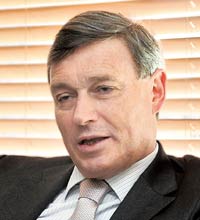 Hans Dietmar Schweisgut, European Union ambassador to China. CHINA DAILY
"When you look at Chinese policy objectives and the need to bring about the transition to a more balanced economy, it would not really make much sense to scare away foreign investors and the economic actors who could make an important contribution to achieving this change," Schweisgut said.
Premier Li Keqiang, speaking at the 2014 Summer Davos forum in Tianjin last week, allayed fears about bias against foreign companies and said the doors of the Chinese economy will always be open and the process of reform will not be reversed.
Schweisgut said he welcomed the premier's commitment to reform and said, regarding China's antitrust probes, "we need to look at how the situation can be judged in a larger context".
The EU will closely follow the Chinese investigations while continuing to have a constructive dialogue with Chinese authorities to push forward principles of transparency, the right of defense and objectivity, the ambassador said.
Francesco Sisci, a senior researcher at the Center of European Union Studies at Renmin University of China in Beijing, agreed it is too early to pass judgment on Chinese antitrust investigations.
"Certain special products have carved themselves niche markets, which allow them to fetch higher prices in foreign markets," Sisci said. "In this respect, to clamp down on such activities is a good thing, but much attention will be paid to further investigations going forward."
Schweisgut was the Austrian ambassador to China from 2003 to 2007. In the seven years since he was last in Beijing, he said the EU-China relationship has advanced in all fields and now constitutes "a strategic partnership that shows we are indispensable partners".
Another priority of his tenure will be the bilateral investment treaty, with the fourth round of negotiations coming up soon.
According to the European Chamber of Commerce in China, while bilateral trade between the EU and China, at more than 1 billion euros ($1.29 billion) per day, is the second-most important in the world, China accounts for under 3 percent of Europe's total investments abroad.
Representing the Italian presidency of the Council of the European Union, Alberto Bradanini, Italy's ambassador to China, said negotiations on market access in China should be emphasized at the bilateral trade talks.
"I believe that the Chinese authorities are interested in seriously and quickly addressing the issue of market access, which is the only way to make our two economies more integrated," Bradanini said.
Zhang Jianping, a senior researcher at the Institute for International Economic Research at the National Development and Reform Commission, said such comprehensive agreements are extremely complicated because they touch on many legal issues.
"However, it is hugely important for both China and the European Union to speed up the process because it will drive up bilateral investment, which, in turn, will boost bilateral trade—one will boost the other to form a beneficial cycle," Zhang said.