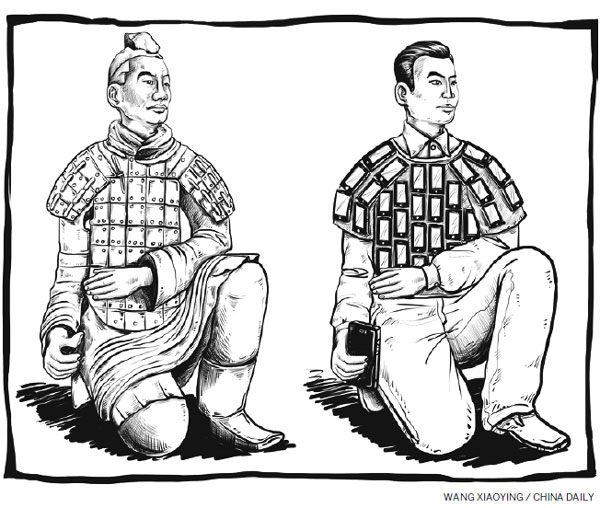 So there it is then, after what seems like months and months of supposed sneak-peek previews, what we're being offered is exactly what the rumors suggested - a revolutionary new device that will transform our lives.
Well perhaps not. Just a bigger, admittedly better-looking version, of something many of us already have. The iPhone 6 and the iPhone 6 mini, or as Apple prefers to call them the 6 and the 6 Plus, aren't groundbreaking, but they are both bigger than their predecessors, and when you get one out of the box, - before you drop it, let your kid have a look at it, or spill things on it - your new badge of cool will certainly be good looking.
In a way the two new smartphones are the iPhone Air, but since calling them that wouldn't be enough to ship enough units, Apple wisely decided to go with the numerical sequencing, which implies you're getting something new, rather than just a stretched out make-over.
Having said that, the seamless - wait a minute, how does Apple describe it, oh yes - "one continuous form where hardware and software function in perfect unison" does look good in the pictures. Certainly it looks better than the less-than-inspiring marketing line above might imply; which hardly portrays it as a must-have object of desire.
In fact, there is no hiding the fact that, the iPhone 6 is actually a bag phone. It's not really something you're going to slip into your pocket, suggesting Apple has taken in to account the surveys that indicate more women than men buy iPhones.
For those that don't want to carry a bag just so they can check an app, Apple also previewed the Apple Watch at the same event. Presumably they didn't call it the iWatch just to gloss over the fact you need to have at least an iPhone 5 for it to be of any use. Of course, as Apple's first new product since the launch of the iPad there will be those who want to be first kids on the block with the latest look-what-I've-got toy regardless of if its merits.
But hey, if you are jogger in Silicon Valley and want to know how many miles you've done and what your heart rate is, the iWatch, sorry Apple Watch, is no doubt very useful, it's just a shame the strap doesn't inflate like one of those blood pressure checkers. And for those addicts who have to have their phone with them at all times - aargh comes the cry from the cubicle next door, as another phone gets flushed down the pan - it will no doubt be a blessing, or something they have to do cold turkey from in some grim correctional facility. Unfortunately, it won't be available until sometime next year.
Apple brought onboard designer Marc Newson for its first wearable. There was quite a love-in between him and Apple's head of design Jonathan Ive, when he joined, but the watch, although clever, doesn't seem to have been touched by the company's magic wand, which has given the various incarnations of the iPhone their glad rags. Perhaps they were too busy patting each other on the back while laughing all the way to the bank, seeing as it starts at $349 in the United States.
While the latest Apple launch might have relied on a middle-of-the-road stadium rock band to give it some bombast, it did signal one interesting thing. With the introduction of the iWatch - Apple Watch, sorry - the company that others look to for evidence of what will be mainstream in the market has shown that the trend for a continuous 24/7 cyber hook-up is gaining momentum. However, its first wearable seems to signal the company is marking time while it waits for the next big idea from someone that it can repackage and transform into a more appealing and user-friendly lifestyle accessory. So perhaps we will have to wait a while for the launch of the iImplant 6, when we'll be bemoaning the fact it only changes color with a change in mood and doesn't actually change our mood - or perhaps it will. Did I mention iAddicts.
The author is a writer with China Daily.