At a jewelry exhibition in London two years ago celebrating the 60th anniversary of Queen Elizabeth II's ascension to the throne, a selection of jewelry made by a young Chinese designer was put on display with masterpieces by many world-class Western designers.
They were the works of Liu Fei, 39, one of few Asians to have made a name for himself in jewelry design outside China.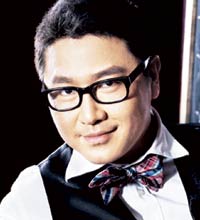 Liu Fei, jewelry designer and founder of Fei Liu Fine Jewelry.
Liu has a range of award-winning collections that put the accent on femininity and star-quality appeal, jewelry that draws heavily on his Eastern heritage but that leans equally on his Western training.
"I must say that I try to use the language of the West to illustrate a Chinese story," he says. "I try to combine my background and what I have learned here to create something that represents my own identity."
Liu hails from the southwestern municipality of Chongqing but was trained at the School of Jewelry at Birmingham City University from 1998 to 2001, and is said to have been the department's first Chinese student.
"I come from a relatively reserved culture, and I was fascinated by how open British culture is," Liu says on a web page of the university devoted to its alumni.
"I wanted to keep the real me but adapt to this new society and improve myself too.
"Since I have been in the UK, my whole understanding of art and beauty has been turned upside down. European art history has become the most important influence in my understanding of art."
For Liu, designing jewelry is an artistic expression and an extension of his character.
"Jewelry gives me the opportunity to express myself and how I see the world. It's a link between the outside world and the inner me and how I want other people to see me."
Liu received his first big career award, the British Goldsmith Craftsmanship and Design Award, when he was studying at the university, making him the first Chinese gold medallist in Britain's highest-level jewelry contest in its 100-year history.
Five years after he graduated he launched his own company, Fei Liu Fine Jewelry, and opened a jewelry store in Birmingham.
His talent and hard work have greatly raised his profile in British fashion circles and enabled him to become a major player in Birmingham's jewelry industry, and Fei Liu Jewelry is now recognized as a growing British designer brand.
He once designed a plaque for the footballer David Beckham, and his jewelry is frequently seen being worn by celebrities pictured in fashion magazines. They include the US actress and playwright Lisa Edelstein, the Irish broadcaster Christine Bleakley and the Chinese actress Zhang Ziyi.