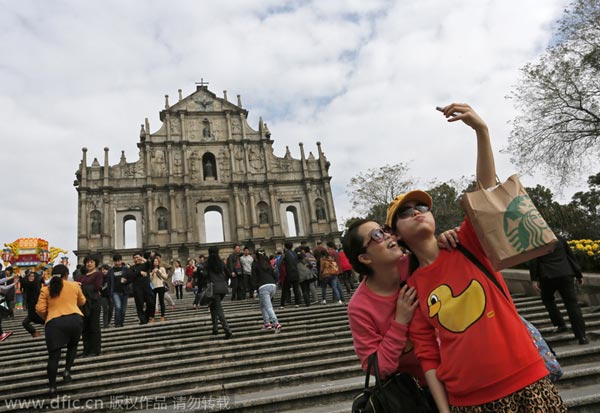 Tourists visit the Ruins of St. Paul, a famous landmark in Macao. [Photo/IC]
The contribution tourism makes to the economy has now become one of the benchmarks for the industry's success
Delegates from APEC member economies shared their tourism success stories at the 2014 APEC Tourism Working Group meeting. Under a five-year tourism plan, from 2015 to 2019, Indonesia is using an "eco-tourism" concept, which highlights sustainability strategies. The country mapped out several tourism areas across the nation as priority destinations under the plan.
The government encourages local villages to adopt sustainable practices for the environment and communities. "Tourism requires multi-level coordination, multi-layer partnerships and a lot of collaboration with other sectors and businesses," said the Indonesian delegate. He added that they combined efforts from the government, scholars, the business world and communities involved in tourism administration.
He said guidelines governed the industry's management, which was particularly important when assessing how to measure the quality of management "in terms of the number of visitors, the length of their stays, their expenditure as well as the benefit for local communities".
"The management of tourism is really important to guarantee sustainability, and to ensure the prosperity of the community and well-being of the environment," he said.
He gave the example of Toraja, in Sulawesi Island, which is known for its coffee and is now using its culture and heritage to attract tourists.
Toraja is made up of two regions but local people have a forum-like organization to manage business in both regions in an integrated way.
The delegate from the Philippines said that his country "shared the same experience as other APEC economies in how they positioned their tourism industry and how the tourism industry was shaping the development of the different economies".
He said that the Philippines' tourism was a success in terms of regional economic integration thanks to policy alignment and reforms. He said the most important lessons learnt in recent years included cooperation among government, agencies and the private sector, integrated legal and policy framework, support from top decision makers and accurate budget allocation.
For many years the Philippines changed its image and tourism programs and related laws and policies were not in accordance with each other. Some were even conflicting, which discouraged business and investment.
The Tourism Policy Act, issued in 2009, aimed to solve the problem by setting regulations on how to synchronize policies and programs by the government.
According to the act, tourism is an "indispensable element" of the country, and "an industry of national interest and importance". It also recognized the role of tourism as an engine of socioeconomic growth.
The country introduced a "tourism cluster" concept, which includes several tourism sites grouped into a tourism development area.
By establishing the clusters, authorities can diversify tourism products, identify necessary infrastructure to link different sites and find needed improvement in facilities and services.
"Our measurement of success is not limited to the number of arrivals into the country," he said. The most important benchmarks of tourism now are two things: the money generated by visitors and the contribution of tourism to the national economy, he added.