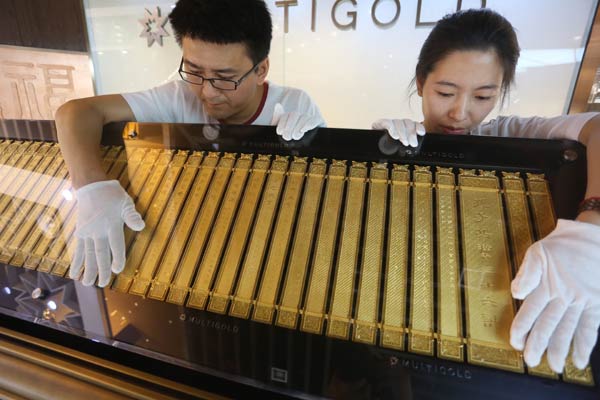 A national intangible cultural heritage-" The Art of War of Sun Tze" on gold bars-makes its debut in Beijing on Tuesday. Sun was an ancient Chinese military strategist of the Spring and Autumn Period in the 6th century BC. The entire contents of his well-known 36 tactics were carved on 45 gold bars that weigh 120,000 grams in total. CHINA DAILY
Yuan internationalization likely to increase nation's need for the metal, experts say
Gold demand in China will grow steadily as the middle class expands and the yuan is further internationalized, which will require an increase in gold reserves, said trade officials on Thursday.
Although gold prices have been sliding since last year, the metal remains an attractive investment in China. Demand for gold jewelry and bars will provide a "cushion" for the price in the coming years, Aram Shishmanian, chief executive officer of the World Gold Council, told the China Gold Congress & Expo 2014 which opened on Wednesday in Beijing.
"People love gold in China, and for some, it seems to be a status symbol," he said. "For China's investors, gold will be serving as a wealth protection and store of value during times of economic turmoil because gold is a safe-haven alternative asset," he said.
Chinese buyers purchased a record 1,176 metric tons of gold in 2013, with jewelry demand climbing 43 percent to 716.50 tons and bullion demand soaring 57 percent to 375.73 tons. Gold can also be used in the electronics, medical and other industries.
Purchases in China are expected to be slightly lower this year, said Albert Cheng, managing director of the WGC for the Far East. Cheng explained that last year's buying surge was partly prompted by lower prices.
He estimated that gold consumption is likely to hit 900 to 1,000 tons this year, but demand could reach at least 1,350 tons by 2016.
Meanwhile, China's push to make the renminbi a global currency will further increase the central bank's gold reserves, trade insiders said.
Song Xin, president of the China Gold Association, said that it is in China's interest to support renminbi internationalization with gold reserves.
"The internationalization of the renminbi is a clear trend though it is still in its infancy, with full convertibility still not implemented," he said. "But gold as a store of monetary value and the purpose it serves in financial markets have already been given great importance."
Song said that China's gold market has seen dramatic growth during the past decade but consolidation is necessary, because miners and refiners are under mounting pressure from falling prices. "We need to combine resources and encourage mergers and acquisitions," he said.
The People's Bank of China had gold reserves of 1,054 tons in 2009, accounting for only about 1 percent of its massive foreign exchange reserves. However, reports have indicated that the central bank may soon lift that figure to 2,710 tons.