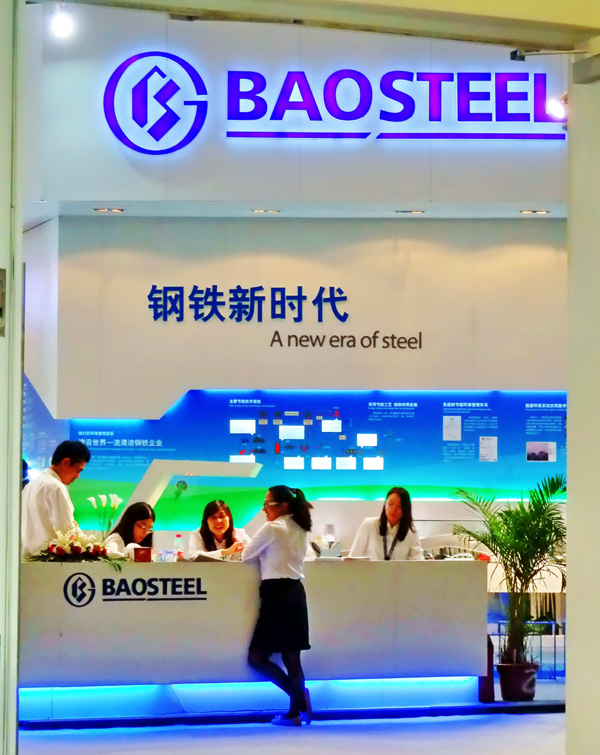 The booth of Baosteel Group at a metallurgy exhibition held in Shanghai. [Provided to China Daily] 
Overcapacity in steel sector forces firm to chart new growth strategy
Shanghai Baosteel Gases Ltd and global private equity firm Warburg Pincus have inked an agreement to buy the industrial gas assets of Henan Jinkai Chemical Investment Holding Group for 3 billion yuan ($488 million), the two companies said on Tuesday.
Baosteel Gases, wholly owned by Baosteel Group, is one of the businesses that the steel conglomerate is betting big as it seeks ways to offset the overcapacity issues in the industry.
"As China's most competitive steel conglomerate, Baosteel Group has achieved impressive development in growing its diversified business platforms including Baosteel Metal. Warburg Pincus is committed to the long-term prospects and potential of the industrial gas in China," said David Li, managing director of Warburg Pincus.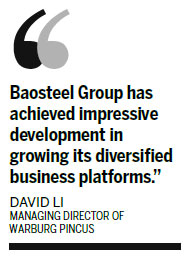 According to a report on China's industrial gas industry by www.qianzhan.com, an industrial consultancy, as the demand for energy, environmental protection and healthcare increases in China, as well as the rapid development of coal gas and coal chemicals, China's industrial gas industry will see fast growth in the next five years.
The report said that sales of industrial gases in China will reach 120 billion yuan by 2016.
According to the consultancy, global industrial gas demand will grow by 5 percent every year in the next five years. The market volume is expected to reach 530 billion cubic meters in 2015.
Li said the firm is making efforts to participate in the ongoing reform of Chinese State-owned enterprises and the partnership with Baosteel is one such move.
The two sides also indicated that they would jointly explore and develop projects in the industrial gas field.
Jia Yanlin, chairman of Baosteel Metal, a subsidiary of Baosteel Group, said Baosteel Gases is looking to be a key industrial gas provider and will take steps to improve gas supply, air separation and integration, applied technologies and pipeline construction.
Established in 2008, Baosteel Gases has operations in industrial gases, synthetic gases, packaged gases and new energy, and through its more than 10 subsidiaries covers China's eastern, northwest and southern regions.
With more than $39 billion in assets under management, Warburg Pincus has invested over $50 billion in 720 companies globally.
Since entering the Chinese market in 1994, Warburg Pincus has invested more than $4 billion in Chinese companies in the industrial, energy, consumer and retail, healthcare and real estate industries.