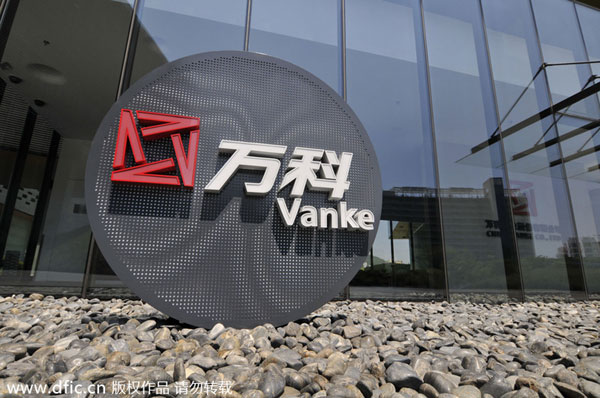 View of the headquarters of China Vanke Co Ltd in Shenzhen city, South China's Guangdong province. [Photo/IC]
Policy tweaks fail to lift margins for large real estate companies in China
China Vanke Co Ltd, the country's largest property developer by revenue, posted slower profit growth in the first half of 2014 compared with robust gains in the same period last year.
Net profit edged up 5.55 percent year-on-year to 4.81 billion yuan ($782 million) during the first six months of the year, said a Vanke report submitted to the Shenzhen Stock Exchange. The company's growth was sharply down from the 22 percent increase in net profit it enjoyed in the first half of 2013.
But the Shenzhen-based company seems to have recovered somewhat from its bleak first quarter. In the January-March period, it posted a 5.23 percent year-on-year drop in profit, its first quarterly profit decline since 2002.
A drop in revenue also narrowed from the first quarter. From January to June, Vanke reaped total revenue of 40.96 billion yuan, down 1.04 percent from a year ago, but narrowing from the 32.16 percent plummet in January-March.
Basic earnings per share rose 6.59 percent year-on-year to 0.44 yuan.
Vanke said in the report that real estate sales in the first half of 2014 across China had slowed from last year but still were up compared with 2012.
Despite a decline in nationwide sales in the first half, the company adjusted its strategy and achieved 14.6 percent growth in total building area, as well as a 20.6 percent increase in sales revenue, the report said.
Small apartments accounted for as much as 92 percent of the commodity housing it sold during the period, according to the report.
China's real estate firms have watched the property market steadily cool. Beijing Capital Land Ltd, a property developer, saw its total building area sold in the first six months rise only 1.1 percent from a year ago.
The sluggish growth of large developers joined a host of disappointing indicators. Real estate investment continued to ease in July, data from the National Bureau of Statistics showed on Wednesday.
Over the past few months, an increasing number of cities saw a drop in house prices, in part due to loosening of purchase restrictions, such as bans on second or third homes, or high minimum down payments.
New home prices in 55 of an official sample of 70 major cities dropped month-on-month in June, compared with 35 in May. New home prices fell in the first-tier cities of Shanghai, Guangzhou and Tianjin, but not in Beijing. However, used home sales declined in all four cities.
But many experts have ruled out a "hard landing" for China's property sector. They predicted the sector would recover in the fourth quarter as banks become more lenient in issuing loans amid ample credit supply.
In Sunday's report, China Vanke noted the government's fine-tuning of the once-sizzling property market has become more targeted and market-oriented. It said the central bank stressed appropriate allocation of credit resources in May, as well as credit support for families buying first homes.
The policy means reasonable demand for so-called "owner-occupied housing" is endorsed and protected. Such measures, the company said, would help put the sector back on track.