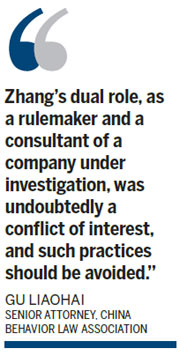 A Chinese antitrust adviser has been dismissed by the antitrust consultant committee of the State Council (cabinet) for providing consulting services to the world's largest smartphone-chip maker, Qualcomm Inc, as well as disciplinary violations, according to officials.
It is the first such case since the 21-member committee was established in 2008 as an advisory and supportive body for three government antitrust enforcement agencies.
Zhang Xinzhu was removed from his position as an expert on the committee for taking large payments from Qualcomm for his consulting services, said an official involved in the investigation of Zhang's case who declined to be identified.
It's as yet unknown whether Zhang's regular job as a professor at the Chinese Academy of Social Sciences will be affected by the investigation.
Zhang told Shanghai media on Tuesday the reason for his dismissal was that he had defended foreign companies. He also said the enforcement of China's antitrust law has reached a "dead end".
"The reason for removing Zhang from his position is not because of what he said but because of his serious violations of work discipline," the anonymous official said.
"Without any approval from the committee, Zhang was retained by Qualcomm Inc ... Qualcomm has a strong legal team, and the main purpose of retaining Zhang to help them compile related reports was to take advantage of his position as an expert with the committee," he said.
Citing an unidentified source, The Economic Observer reported on Wednesday that Zhang received an unconfirmed sum of money - either 6 million yuan or $6 million - from Qualcomm as payment for defending the company a couple of times and compiling a report for the semiconductor company.
The National Development and Reform Commission, China's antitrust regulator, concluded in July that the American semiconductor company commanded a monopoly in the Chinese chipset market.
Qualcomm did not reply to e-mails sent by China Daily seeking comment. Zhang was unavailable for comment on Wednesday.
"Zhang's dual role, as a rulemaker and a consultant of a company under investigation, was undoubtedly a conflict of interest, and such practices should be avoided," said Gu Liaohai, senior attorney of the Beijing-based China Behavior Law Association, adding that it is like having a prosecutor who also acts as a defense lawyer.
"The committee should make its rules clearer and specify that experts are not allowed to provide consulting services for companies," said an expert on the committee. Experts should also disclose information and cut off ties with the agency before starting providing such kind of services, he said.
The experts also said that the Anti-Monopoly Law gives enterprises full rights of defense and the government should further step up efforts to make it more transparent.
Effective implementation of China's Anti-Monopoly Law would be beneficial for developing a healthy market economy in China, the European Union Chamber of Commerce said in a press release on Wednesday.
"The European Chamber remains convinced that enforcement of the AML could serve as one of the best tools not only for creating a more market-based economy in China but also for reducing non-compliant and even corrupt behavior," it said.