To mark the first year of the Diamond Decade of China-ASEAN cooperation and the start of efforts to build the 21st century Maritime Silk Road supported by the governments on both sides, the 11th China-ASEAN Expo will be held in September in Nanning, capital of South China's Guangxi Zhuang autonomous region.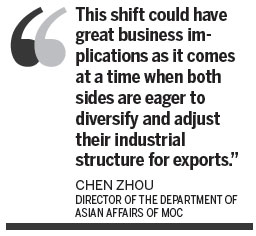 Zhang Xiaoqin, Guangxi's vice-chairman, said Australia has confirmed its participation in the expo as a special guest country. This mechanism will expand service coverage of the expo to a regional comprehensive economic partnership.
"The Beidou Satellite Navigation System, offshore engineering products, the development of e-commerce, new sources of energy and environment protection will help upgrade bilateral cooperation from traditional sectors to high-end fields, and drive economic growth of all the countries concerned during the expo," Zhang said.
Trade between China and ASEAN grew 4.8 percent year-on-year to $220.7 billion in the first half of the year.
Wang Jinzhen, vice-chairman of the Beijing-based China Council for the Promotion of International Trade, said Chinese companies should be prepared to add more high-tech elements to their products if they want to cash in on the growing trade between China and the ASEAN countries.