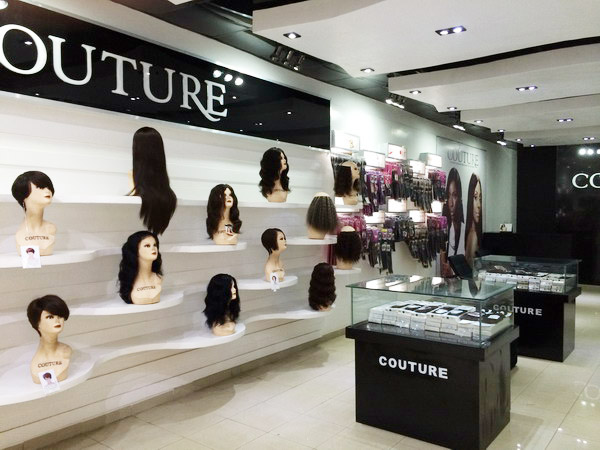 Henan Rebecca Hair Products Co Ltd has built its business on wigs being considered a necessity by many African women.[Photo / China Daily] 
Nigeria is the center of its operations on the continent, given its relative economic stability, although the currency is prone to fluctuation, he says.
"Nigeria is the most influential country in western Africa, and has the biggest population. The Lagos wholesale market radiates right across the region and so it's important for us to be based here."
The company also has small subsidiary companies in Ghana, Togo, Cote d'Ivoire, Burkina Faso, the Democratic Republic of Congo, Tanzania and Kenya.
"Between 30 and 40 percent of our total sales in Nigeria go to neighboring countries," Wang says.
To satisfy growing demand and also localize its manufacturing, Rebecca set up its first factory in Nigeria in 2004, and then another in Ghana in 2008.
"Localization of our manufacture is a priority and we are investigating a new factory site in southern Africa. Zimbabwe was our first choice but due to its sluggish economy, we are now looking elsewhere, probably Namibia.
"The African operation has more than 1,000 workers. But we are not producing all our products locally as some complicated techniques must be done still in China," he says.
Rebecca's products are mainly made of two kinds of raw material: real human hair and synthetic fiber.
For the "real" option, the hair comes from abroad, while only standard synthetic fibers can be produced locally.
"Producing some more specialized synthetic fibers can require very high quality water as well as cool temperatures, and those are difficult in Nigerian conditions," he says.
"The other difficulty is that our high-quality US machines can't be shut down when they are in the middle of production, so any minor malfunction can destroy everything."
His ultimate goal is to have a complete production line in Africa, but at the moment he still relies on imported material.
"But our sales operation is nearly localized, including our sales managers and some senior managers, and we are confident that our manufacturing will also be fully local before long."
Rebecca's revenue has increased tremendously in the 15 years since it opened, but Wang says it is still determined to create a truly international brand, using its own technology.
"The power of the brand is vital, and that's our most valuable asset for the future - I know we can build that not only in Africa, but right across the world too."