China is likely to import less sugar this year as higher inventories in the domestic market and weak prices in the international market may make the prospects less sweet for importers, industry sources said.
Sugar imports this year are expected to be around 2.2 million metric tons, nearly half the quantity that was imported in 2013, said a forecast issued by the Beijing-based China Sugar Association on Monday.
Jia Zhiren, executive vice-president of the association, said demand for sugar has gone up in China due to rising income and rapid urbanization. China's limited sugar output is insufficient to meet demand, and the country has had to depend on imports.
In addition, the government has stockpiled sugar for many years at above-market prices to support domestic farmers, he said.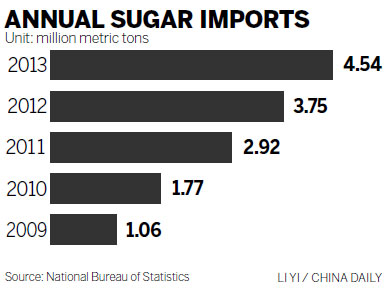 "This policy has led to rising domestic prices and higher foreign shipments. The inventories will cut the need for a large amount of imports in 2014 and also place a cap on global sugar prices," said Jia.
An upgraded food-processing industry and changing consumption structure have become the main drivers for China's sugar consumption. China is the world's second-largest consumer of sugar after India, and the world's third-largest producer, after Brazil and India.
Customs statistics show that China imported 4.54 million metric tons of sugar in 2013, 21 percent more than a year earlier.
China still holds 6 million metric tons of sugar reserves, and its domestic market also has a certain amount of carry-over stock. Jia said that although global sugar output may decline due to lower sugar cane yields in Brazil, the world's top raw sugar producer, because of extreme weather conditions, China has no cause for concern.
Ren Changqing, a professor at the center of futures and financial derivatives at China Agricultural University in Beijing, said the frost weather conditions in Yunnan earlier this year have not caused any major damage, and the country is likely to experience a fourth year of higher sugar output.
The China Sugar Association predicted in May that the country's total sugar output would hit 13 million metric tons in 2014, up 11 percent on a year-on-year basis.
"Unlike developed markets such as the United States or the European nations, the busiest sugar consumption season in China is in summer, especially in July and August. Beverage companies normally store up a huge amount of sugar before this season," said Ren.
"Under such circumstances, China is unlikely to import a lot of sugar in the second half of the year."
Fang Yan, deputy director-general of the department of rural economy at the National Development and Reform Commission, said to use the international market and its own resources more efficiently, China has started tweaking its subsidy policies for farm products like sugar, soybean and cotton by offering flexible price subsidies for State reserves to match international prices.
"The narrow profit from foreign sugar will restrain further sugar imports and also relieve supply pressures in the domestic market," Fang said.