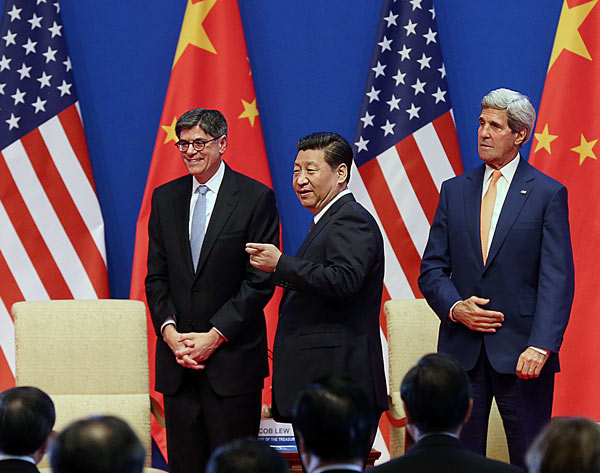 President Xi Jinping welcomes US Secretary of State John Kerry and Treasury Secretary Jacob Lew at the opening ceremony of the China-US Strategic and Economic Dialogue in Beijing on Wednesday. [Photo/China Daily]
China, US aim to cleanse lingering wounds with high-level dialogue
Beginning a new round of high-level talks, Beijing and Washington vowed on Wednesday they would not allow areas of disagreement to overshadow their relationship, which is critical to global prosperity.
Both countries expressed confidence that careful management of any differences would prevent escalating tension and that healthy competition, not confrontation, was the way forward. Observers said the dialogue would serve as a "disinfectant"to help cleanse wounds inflicted in a series of disputes.
"A China-US confrontation, for the two countries and the world, would definitely be a disaster,"President Xi Jinping said at the opening ceremony of the sixth round of the Strategic and Economic Dialogue at the Diaoyutai State Guesthouse.
That venue is where former US Secretary of State Henry Kissinger carried out secret talks in the 1970s that paved the way to establishing bilateral relations.
"The vast Pacific Ocean has ample space to accommodate our two great nations,"Xi said.
Relations between Beijing and Washington have recently been soured over Washington's comments on issues such as maritime territorial tensions, allegations of the Chinese military engaging in cybertheft and a protest in Hong Kong.
Ruan Zongze, vice-president of the China Institute of International Studies, said Washington recently has shifted blame for its stalled Asia-Pacific rebalancing strategy onto China's increasing influence in the region.
"Most of Beijing's concerns about Washington were due to a wobbling US stance,"Ruan said.
"The talks will help channel off the'negativity'that occasionally haunts the bilateral ties and consolidate strategic consensus." US Treasury Secretary Jacob Lew has said he will press China to further appreciate its currency, open its financial services sector and speed up economic reforms in this round of talks.
Xi said the differences between the US and China are "natural", but that the way to move forward was to respect each other's sovereignty and "refrain from imposing your will or model on the other".
He proposed the two countries should strengthen military communication and speed up talks on a bilateral investment treaty and reach an agreement at an early date.
US Secretary of State John Kerry said, "We are convinced that the United States and China do not have to be rivals, but can be partners.
"We have a profound stake in each other's success,"Kerry added. "I can tell you that we are determined to choose the path of peace and prosperity and cooperation, and yes, even competition, but not conflict."
In a statement released as the discussions began, US President Barack Obama said: "We remain determined to ensure that cooperation defines the overall relationship,"repeating his pledge to establish a new model of relations between major powers.
Zhong Feiteng, a researcher at the Chinese Academy of Social Sciences'National Institute of International Strategy, said Beijing and Washington have talked frankly about the other's perceived shortcomings as the dialogue begins, "which is a good sign of increasing maturity in their interaction".
Kerry stressed on Wednesday that the US does not aim to contain China.
Zhong, however, said, "What the US actually wants is to achieve effective management and control over China's rise, especially China's possible challenges to US authority on critical issues."
The dialogue will "serve as a disinfectant", and China can use the occasion to update the US on Beijing's new thoughts on security issues, Zhong said.
The US delegation included Federal Reserve chair Janet Yellen and three other Obama Cabinet members.
Reuters said on Wednesday that US officials have underscored the importance of the talks to help ensure the key relationship doesn't drift.