The General Administration of Customs said on Tuesday that Beijing and Tianjin are collaborating on customs clearance procedures, marking a giant step forward in facilitating foreign trade in the Beijing area.
Starting Tuesday, all imported and exported goods from Beijing and Tianjin could enjoy simplified procedures through the regional integrated clearance system. Only one customs declaration is required, according to a news release from the administration. In October, Hebei will join the integrated system.
Beijing Benz
Automotive Co Ltd's declaration of imported windshield wipers was the first applied
maritime
import customs order on Tuesday.
By 5 pm, customs offices in Tianjin and Beijing had received a total of 14,940 applications. Each of the 259 cross-customs orders took only a minute to complete customs clearance.
In the past, enterprises had to declare imported goods at the port's customs office and then declare them again at local customs in order for goods to enter the warehouses.
"After the completion of related customs procedures, any customs departments in the area will recognize checks conducted by their counterparts," said Li Peilin, chief of the Tianjin Customs District.
There are 43 customs clearance sites in Beijing, Tianjin and Hebei. With the integration, all will share information through an online regional center.
"It will shorten the time and distance for foreign trade, and help companies cut the cost of customs clearance in the trilateral region," said Li.
The integration model will save companies an average of eight hours in customs clearance for a Tianjin-based company importing or exporting products through Beijing Capital International Airport. It will also reduce the transportation expense by 30 percent.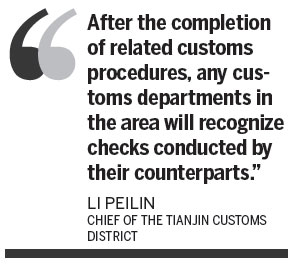 "The trade facilitation provided by the government is improving Chinese companies' competitiveness by cutting down on their costs," said Luo Xiaoming, director of trade department at Tianjin University of Finance & Economics.
However, Luo said the reduction in clearance and transporting costs only accounts for a fraction of products' overall costs.
"Nevertheless, China's foreign trade is driven by the needs from overseas markets," said Luo.
Among the 14,000 Beijing-based companies with frequent import and export shipments, about 60 percent of them need to finish customs clearance in ports in Tianjin and Hebei.
Within the Beijing area, total foreign trade value reached $612.5 billion in 2013, accounting for 14.7 percent of the country's total volume, according to a report quoted by China Economic Net.
Zhang Yan and Li Jiabao contributed to this story.