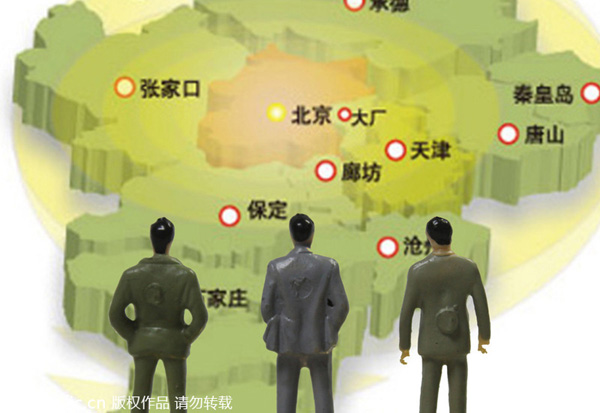 View of Beijing,Tianjin and Hebei province in map. April 14, 2014. [Photo/IC]
A detailed plan for the coordinated development of Beijing and two adjacent regions is in the making, with significant reform initiatives on the horizon, an official from China's top economic planning agency said on Wednesday.
The coordinated development of Beijing, Tianjin and Hebei province gained momentum after President Xi Jinping envisioned the grand strategy in late February.
The plan will raise "important reform initiatives" and specific support measures in terms of fiscal policy, as well as the industrial, investment, population, social security, environment and land areas, Fan Hengshan, vice-general-secretary of the National Development and Reform Commission, told a news conference.
An initial report has been completed after thorough study by several ministries, he said, though he didn't specify a date for the release. He said the plan will be of "high quality" and cover a long time frame.
The China Business News reported that the release date has been delayed from the previous estimate of June.
The strategy has been widely welcomed in Beijing, which is struggling under the weight of a population estimated at 21 million. The capital is frequently blanketed with heavy smog, and living conditions have been pushed to the limit in many aspects.
Fan identified several factors for consideration when making the plan.
He said the plan will recognize the region's major problems and offer solutions to each one.
The plan will also coordinate the development of infrastructure, industrial upgrading, environmental protection, public services and integrated markets.
Wang Ning, president of a leading mobile game company, has decided to move his Beijing-based company to the Wuqing district of Tianjin this year.
Wang's office is in Zhongguancun Science Park, a key information technology industrial park in Beijing.
He said that time-consuming administrative procedures and rising costs in Beijing have compelled him to make the decision to move.
"A company like ours is not a big deal for a super-cosmopolitan city such as Beijing. We can get better services and reduce administrative costs if we move to a smaller place."
Wang's is among 20 companies that have signed cooperation deals with Wuqing in recent months. Sixteen out of the 20 companies have already relocated from the capital.
Lu Hao, vice-president of S-Link Group, said administrative costs plunged by 40 percent after the company moved to Wuqing late last year.
Among newly registered companies in Wuqing, more than 50 percent are from the capital, said Liu Shuohan, an official from the local government in charge of business registration.