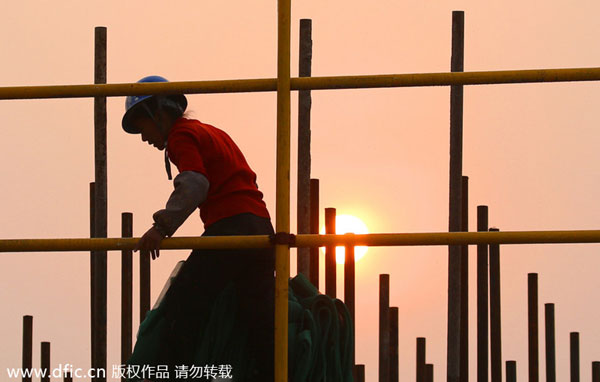 A Chinese migrant worker builds scaffoldings at the construction site of a real estate project in Rizhao city, east Chinas Shandong province, May 1, 2014. [Photo/IC]
Attention shifts to Europe, other overseas markets as real estate uncertainty persists in China, reports Hu Yuanyuan
Grant Ji, senior director of the investment department at Savills Plc in Beijing, spent about 20 days in Europe last month, bringing his Chinese clients all institutional investors to seek opportunities overseas.
Trips such as this one have become routine for Ji. But just a year ago, he was spending much more time with international investors looking for opportunities in China.
"Given the rising uncertainties in China's real estate market, it is really difficult for international investors to find a project that can bring them appropriate gains with controllable risks," said Ji.
James Raynor, chief executive officer of international real estate fund Grosvenor Fund LP, said in late April that the HREI China Total Return Fund had suspended its financing plan. The fund, set up by Harvest Real Estate, had planned to raise $500 million to invest in Chinese real estate.
The news followed Hong Kong tycoon Li Ka-shing's sale of about 20 billion yuan ($3.2 billion) worth of commercial property in the Chinese mainland, which added to fears that many global real estate investors are pulling out of the mainland market.
"Due to economic recoveries in the United States and the European Union, it's easier for international investors to find opportunities in those places," said Ji. "Meanwhile, with rising concerns over a real estate bubble, it is getting harder for international investors to tell a good 'China story' and raise money for funds targeting the China market."
The property sector has been cooling this year. The average price in 100 key cities was 10,978 yuan per square meter in May, down 0.32 percent month-on-month, according to the China Index Academy Ltd, a Beijing-based research institute wholly owned by SouFun Holdings Ltd. That marked the first month-on-month drop since June 2012.
Moreover, risks are rising in the commercial property sector (retail and office space) formerly favored by investors, with a surplus of space in major cities.
According to a recent report by Cushman & Wakefield Inc, the world's largest private real estate services company, new supply of commercial property in the 30 cities that it monitors will total 75 million sq m over the next few years, with a new supply peak of 20 million sq m this year. The firm forecast that about 18 million sq m in new commercial space will enter the market in 2015.
"International institutions' investment in China's real estate sector was mainly a bet on asset appreciation and rent growth, as well as a rising yuan. With all three factors showing signs of slowing down, they will probably choose more lucrative markets elsewhere," Ji said.
According to Pu Yonghao, regional chief investment officer at UBS AG, the correction in China's real estate market may last three to four years, depending on government policies. Based on international experience, a complete adjustment usually takes seven years.