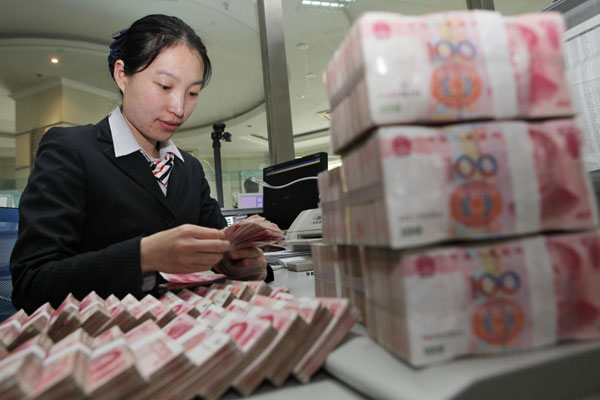 Chinese banks' exposure to the property sector, while not excessive by international standards, is still substantial and a principal source of risk in an environment of tightening liquidity, Fitch said in a recent report. Si Wei / for China Daily 
Fitch: Lenders' increased exposure to housing sector still cause for concern
The correction in China's real estate sector remains under control and its impact on the overall economy is bearable, an official of the country's top think tank said on Friday.
"Based on our research, the risks from the property market are still controllable," Li Yang, vice-president of the Chinese Academy of Social Sciences, told the China Insurance Development Forum.
From individual homeowners' perspective, the value of their residences is still much higher than their mortgage obligations, which means there is little chance for panic selling across the country. Moreover, Chinese banks' risk exposure is limited, said Li.
Liu Mingkang, former chairman of the China Banking Regulatory Commission, said that during the previous real estate correction of 2008-2009, banks could bear the risks even though property prices fell by 50 percent.
According to global ratings agency Fitch Ratings Inc, property development and mortgages reportedly account for more than 20 percent of the loans of banks rated by Fitch.
"But total exposure could be higher, considering the risk of misclassification of loans and exposure that may reside off-balance sheet," said Jonathan Cornish, managing director of Fitch's financial institutions division.
Chinese banks' exposure to the property sector, while not excessive by international standards, is still substantial and a principal source of risk in an environment of tightening liquidity, Fitch said in a recent report. Indeed, the "shadow banking" sector has been an important source of funding for smaller or weaker property development companies, the report said.
China's property sector has been undergoing a correction since the beginning of 2014, with sales plummeting and prices sliding. The average price in 100 key cities was 10,978 yuan ($1,784) per square meter in May, down 0.32 percent month-on-month, according to the China Index Academy Ltd, a Beijing-based research institute that's wholly owned by SouFun Holdings Ltd. That marked the first month-on-month drop since June 2012.
A collapse in prices is not a core scenario, while the scale of exposure amid a slowdown is a significant macro risk, according to Cornish.